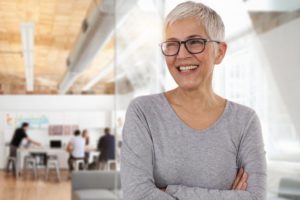 If you've just replaced your lost teeth with a removable full or partial denture, taking care of them might seem a bit confusing at first. After all, it's not as simple as brushing and flossing them like you did with your original teeth. Keeping your dentures in Greenfield free from stains and plaque requires a bit of learning. To help you get used to it and help your dentures last as long as possible, here are six easy tips for denture maintenance.
1. Remove and Rinse Your Dentures After Eating
Run cold or lukewarm (never hot) water over your dentures to wash off lingering food debris and bacteria. Otherwise, these particles could build up and not only create stains, but cause infections in your gums and remaining teeth. Before cleaning your dentures, you might want to lay out a towel on the counter or the sink. That way, if you drop the dentures, they won't break.
2. Clean Your Mouth After Removing Your Dentures
Use a soft-bristled toothbrush on your natural teeth, and a soft toothbrush or a gauze pad to clean your tongue, cheeks, and the roof of your mouth. If you used any denture adhesive, wipe it off of your gums.
3. Brush Your Dentures Daily
At least once a day, gently scrub your dentures with a toothbrush and a non-abrasive denture cleanser. Take care to clean the grooves that sit on your gums in order to clear away any remaining adhesive.
4. Soak Your Dentures Overnight
Dentures typically need to stay wet to maintain their shape. Plus, your gums might be a bit tired from holding the dentures in place all day, especially if you're not quite used to them yet. Before bed, place your dentures in a glass of (again, not hot) water or denture cleaning solution. If you used the latter, rinse your dentures off in the morning before putting them back in your mouth.
5. Schedule Regular Dental Checkups
Even if you've lost all of your natural teeth, you'll still need to visit your dentist at least twice a year. They can professionally clean your dentures and ensure your mouth is free of infections and other health problems.
6. Call Your Dentist If Your Dentures Aren't Fitting Quite Right
Every few years, your dentures might lose their fit as your jawbone naturally changes shape. Poorly fitting dentures are not only uncomfortable, but they can also cause gum sores or infections. As soon as you notice something is off about your dentures, let your dentist know.
Most dentures aren't designed to last forever, but if you follow these tips, you can extend their lifespan by several years!
About the Author
Dr. David Blanchard is a dentist in Greenfield, WI who graduated with honors from the University of Michigan School of Dentistry. He keeps up with the latest advancements in dental technology and treatments through his memberships in the American Dental Association, the Wisconsin Dental Association, and the Academy of General Dentistry. At Advanced Dental Treatment Center, he and Dr. William Carini offer traditional full and partial dentures as well as implant-retained dentures. To learn more about making your dentures last, contact their office at (414) 258-9630.