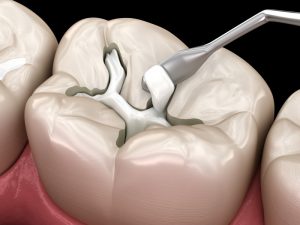 At some point in their lifetime, most people will need a dental filling. This incredibly common procedure is typically used to treat cavities and damage in permanent teeth, and an estimated 91% of adults between 20 and 64 years old have received one, according to the Centers for Disease Control and Prevention. Read on to learn how to tell if you need a cavity filling, and what that process will entail when you visit your dentist.
Signs You Need a Dental Filling
Dental fillings are often recommended by dentists whenever they notice signs of decay (cavities) or damage affecting a tooth, like a chip or crack. To stop the problem from progressing and keep harmful oral bacteria from entering into the vulnerable inner chamber of a tooth, your dentist will fill it. However, before they can do that, they'll need to determine whether the treatment is necessary by conducting a thorough examination of your teeth, capturing digital X-rays, or discussing symptoms you may be experiencing, including:
Dental sensitivity, like when you eat hot or cold foods.
Dental floss tears when you floss between particular teeth.
You notice a dark spot on a tooth.
You experience sharp dental pain.
The Process of Getting a Dental Filling
Once your dentist determines that a dental filling is necessary, they'll begin preparing for your treatment. First, they'll clear away any debris or decayed dental structure from the area and sanitize it, making sure no bacteria become trapped beneath the filling. Then, they'll match the shade of your tooth to composite resin, which is a biocompatible, putty-like material.
Just like how a sculptor would work with clay, your dentist will place the resin in your tooth and texturize, shape, and polish it to flawlessly blend in with your existing dental structure. They'll then harden it with a UV light, allowing it to last five or more years with the proper care.
Protecting Your Teeth from Decay
Decay is an unfortunate reality for many people, leading to the need for dental fillings. Fortunately, there are several preventive measures that can help reduce your chances of getting another cavity as well as preserving any fillings in your mouth, including:
Brushing for at least two minutes, twice a day.
Flossing once daily.
Rinsing with mouthwash daily.
Maintaining a balanced diet.
Visiting your dentist every six months for routine checkups and cleanings.
With routine professional care, you'll be able to tackle the early symptoms of cavities with dental fillings instead of allowing them to progress and require more extensive treatment, like root canal therapy. Not only can this help save your wallet from steep out-of-pocket costs, but it can also help you maintain a grin that you feel proud of.
About the Practice
At Advanced Dental Treatment Center, our team is run by two skilled and compassionate dentists, Dr. William Carini and Dr. Kirsten Farr. Their favorite part about being dentists is building long-lasting relationships with their patients, helping them keep their grins intact and healthy throughout their lifetime. They offer comprehensive preventive dental care as well as accept emergency patients. For questions or to schedule an appointment, visit our website or call 414-209-7463.