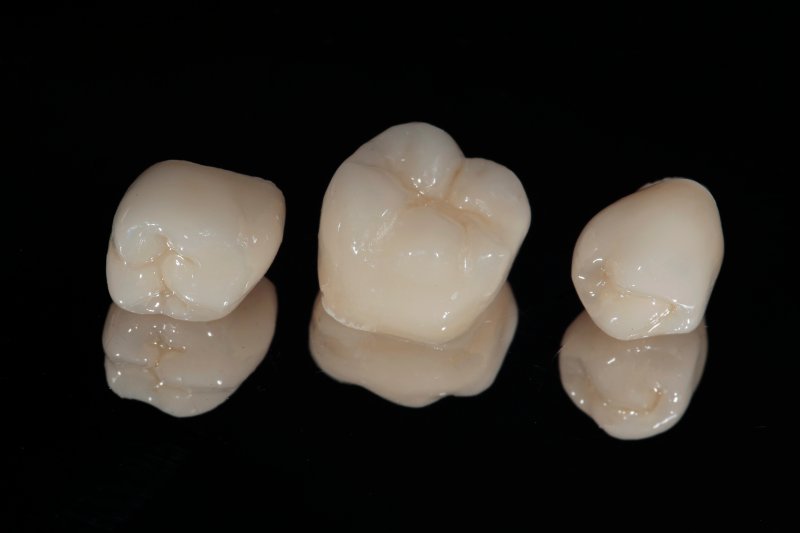 If you're dealing with an uncomfortable toothache, your preference for restorative treatment probably comes down to "do whatever works." However, there are quite a few different treatments that "work" for similar conditions, and you might wonder which one is best for your unique situation.
If you're dealing with damage or decay to your tooth, you may wonder whether a dental filling or a dental crown is best. Here's some information about each of these treatments, and how you can tell which one is best for you.
What Are Fillings?
Dental fillings operate kind of like spackle to drywall—your dentist can fill a cavity with a liquid material that they cure into place, making the tooth whole again. Traditionally this was usually done with silver amalgam, but nowadays, tooth-colored composite resin has become the industry standard for dental fillings.
Fillings are used most often for cavities, especially smaller ones in otherwise healthy teeth. They're fast, convenient, and several of them can be done within a single appointment.
What Are Dental Crowns?
As the name suggests, dental crowns are small tooth-shaped caps that are placed over damaged teeth, protecting them from the outside. Crowns can be made from a variety of materials, including metal, ceramic, and sometimes a combination of the two.
Dental crowns need to be milled in a lab but offer much greater coverage than fillings do. If you've ever had a root canal, you may remember that the tooth was finished off with a dental crown after the treatment was complete. They're also beautiful, so much so that some people get dental crowns for purely cosmetic reasons!
Should I Get a Filling or a Dental Crown?
Ultimately, a dentist would be the best one to ask if you want to know which of these treatments are best for you. They'll be able to take your unique needs into account and form a treatment plan specifically for you.
In general, fillings are used for smaller repairs, while dental crowns deal with much heavier damage. Fillings rely on the integrity of the tooth for support, meaning that they may not be able to adequately deal with severely decayed or cracked teeth.
However, fillings can be done within a single appointment, which is a huge advantage over dental crowns.
One thing is for sure: no matter which restorative treatment you choose, you can be sure that you'll feel much better leaving the dentist than you did when you walked in!
About Our Practice
At Advanced Dental Treatment Center, we work every day with one mission in mind—providing our patients with dental care that is as good as it can possibly be. Whether you want a dental office with cutting-edge technology, friendly staff, or extensive clinical expertise, we're happy to say that we'll be able to exceed your every expectation.
If you have any questions about restorative dentistry, we can be reached at our website or by phone at (414) 209-7463.