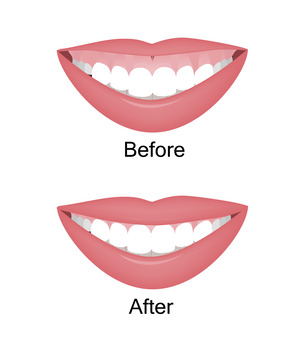 When it comes to cosmetic dentistry, gum recontouring can be an excellent choice for anyone who has a smile that looks a little too "gummy." However, many people who could potentially benefit from this treatment choose not to pursue it, and in some cases, it's due to a misunderstanding of the procedure and its utility. Below are 5 gum recontouring myths and misconceptions that need to stop.
1. Gum Recontouring is Painful
As with many dental procedures, patients are sometimes wary of gum recontouring because they believe it will hurt. However, this is not the case. Your gums can be numbed at the beginning of the procedure to reduce the discomfort you experience. Furthermore, in many cases, gum recontouring can be carried out with a dental laser, which is much gentler than a traditional scalpel. And of course, your dentist will do everything they can to keep you comfortable during your visit.
2. Gum Recontouring Puts the Teeth at Risk
You may be worried that having gum tissue removed can have an adverse effect on your teeth, but this won't be an issue as long as the procedure is being performed by a trained professional. Your dentist will be very careful not to remove more gum tissue than necessary in order to ensure that the roots of your teeth continue to receive the support and protection they need.
3. Gum Recontouring Only Has Cosmetic Benefits
Treatments that seem purely cosmetic on the surface can still have other benefits, and gum recontouring is no exception. Once you have had your gummy smile corrected, you're likely to feel much more confident about your grin. As a result, you might find yourself smiling more often, which is not only good for your mental health but can also have a positive influence on job prospects and other aspects of your life.
4. Your Gums Will Grow Back After Gum Recontouring
Are you concerned that the results of gum recontouring might not be permanent? Rest assured that you generally don't have to worry about the gums growing back. Once the tissue is taken out of your mouth, it's very unlikely that it will regenerate. That means you can say "goodbye" to your gummy smile for good without worrying about needing to have the procedure redone at some point.
5. Only People with Too Much Gum Tissue Can Have Gum Recontouring Done
Excessive gum tissue is one of the main reasons why gum recontouring is performed, but it's not the only one. The procedure can also be beneficial if you have an uneven gumline. You can contact your dentist to learn more about the applications of gum recontouring and why it might be a good option for your smile.
About the Practice
At Advanced Dental Treatment Center in Greenfield, our dentists want to be able to completely fulfill the needs of patients from all walks of life. For anyone unhappy with the appearance of their teeth and gums, we offer several cosmetic procedures. This includes gum recontouring for gummy smiles. To schedule a consultation at our practice, visit our website or call (414) 209-7463.