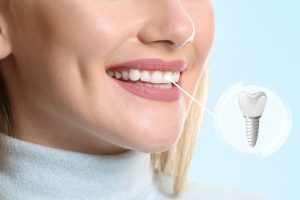 Since their inception, dental implants have been considered the gold standard when it comes to replacing missing teeth. This is because they're able to fully replicate the entire lost tooth's structure without compromising the natural beauty of your smile. But despite their awesome capabilities, dental implants can still sometimes fail; and when this happens, they'll need to be removed before additional problems arise. Here's more from your dentist about why implants can fail and how the issue is usually handled.
Why Do Dental Implants Sometimes Fail?
Even though they're designed to function as a permanent solution for lost teeth, dental implants are still susceptible to failure. Most instances of dental implant failure can be categorized into two distinct types, based on their timing:
Early failures – These generally occur within the first few months of the implant(s) being placed, and it's most often due to the implant still being loose. This can stem from a variety of factors including infection, micro-movements during the healing process, sub-optimal implant positioning, insufficient bone density, an allergic reaction, or even simply a lack of adherence to post-op instructions.
Late failures – These occur one year or more after the implant procedure, and they aren't quite as simple. Sometimes an implant is placed without any issue, but it begins to lose stability over time due to excess pressure, infection, or physical trauma. Other times, the implant remains steady but has been ravaged by perio-implantitis, an advanced form of infection.
A few common signs to look for if you suspect dental implant failure include difficulty chewing or swallowing, gum inflammation or recession, swelling or bleeding around the implant area, loosening of the rod, and severe discomfort.
How Are Failed Dental Implants Remedied?
Salvaging a failed implant can be difficult depending on the situation, and it's usually simpler to remove it before replacing it. Early failures are generally easy to remedy since they occur relatively soon after the implant was placed, and often the implant itself is loose enough to be extracted and replaced without real issue. However, implants in the lower jaw are usually a little tougher to remove, as are implants that have been in place for over 24 months.
If your dentist has determined that your implant needs to be treated, there are a couple of approaches they can take. One method involves making a small incision in the bone along the edge of the failed implant, releasing built-up tension and making it easier to remove. Another common method involves a special set of tools that rely on reverse torque to take out the implant. In any case, once the implant has been extracted, it'll need to be replaced once the implant site has been made healthy.
About the Practice
The team at Advanced Dental Treatment Center is thrilled to provide an exceptional level of care for patients and families in the Greenfield, WI area. They're proud to offer dental implants in addition to a wide variety of other restorative, cosmetic, and preventive dental services. If you have any questions about dental implants or suspect yours has failed, don't hesitate to contact the practice for the assistance you need. Telephone: (414) 209-7463.