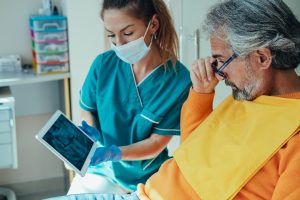 Most people have their wisdom teeth removed by their dentist during their teenage years or early 20s—it's often best to undergo the procedure sooner rather than later, before the teeth have the potential to cause problems inside your mouth! However, is it possible to be too old to undergo wisdom tooth extraction? Here's what you need to know concerning wisdom teeth removal in older patients.
Why Wisdom Teeth Are Usually Removed
Wisdom teeth are the third set of molars that usually emerge between the ages of 17 and 25, and scientists believe that these teeth were once essential for our early ancestors' diets. But as our jaws changed in size and shape over time, our mouths became smaller and without room to properly situate the teeth.
That's why today, wisdom teeth often cause physical discomfort and problems to the point where they need to be removed. These issues include things like damage to surrounding teeth, shifting/overcrowding teeth, gum disease, abscesses, and more. While most dentists favor removing them at an early age, not everyone experiences issues when they're young—sometimes they can crop up as we age. That said, if you're over 35 and your wisdom teeth are still intact and not causing problems, you've likely won the wisdom tooth lottery and won't need them removed!
What Older Patients Can Expect During Wisdom Teeth Removal
Naturally, there are still some risks associated to having your wisdom teeth removed as an older patient—but you shouldn't let these risks deter you, since if the procedure has been deemed necessary by your dentist, you can rest assured it'll mitigate or prevent serious future oral health issues.
Something worth noting is that older patients generally need a longer recovery time; some might need as long as a week to fully recover, rather than the usual 1 to 3 days. There's also a risk of nerve damage, as well as the possibility of losing some degree of feeling in the lower lip since it's closer to where the wisdom teeth roots are located.
The truth is, you're never actually too old to have your wisdom teeth removed. While having them removed early is the norm, there can still be many benefits to undergoing the procedure later in life. If your dentist has recommended the procedure, you now know that it's for the sake of your future oral health!
About the Practice
The team at Advanced Dental Treatment Center has eagerly served patients and families in the Greenfield, WI area for several years. The practice is fortunate to house two skilled specialists: Dr. William Carini and Dr. Kirsten Farr. Together they offer a wide range of preventive, cosmetic, and restorative services. If you have any questions about the article or would like to arrange a visit, you can contact the practice online or over the phone for additional information or assistance: (414) 209-7463.