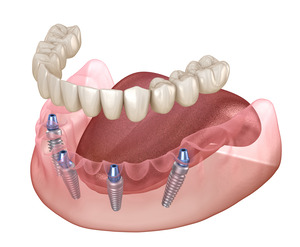 With the innovative All-on-4 procedure, you can enjoy dentures that look, feel, and function like your natural teeth thanks to four carefully placed implant posts. But before you can enjoy the advantages of All-on-4 dental implants, you'll need to undergo a small surgery, after which there will be a short recovery period. What can you expect to happen during All-on-4 recovery, and how can you make sure everything goes as smoothly as possible? The following post has the answers you need.
You Will Need to Take Some Time Off Work
You should plan on staying home for at least one or two days after the All-on-4 procedure, particularly if you have a job that involves a lot of physical labor. Too much strenuous activity could lead to increased bleeding, swelling, and pain in your mouth. As such, it's important that you give your body a chance to rest during the initial healing process.
Swelling and Bruising are Normal
Typically, you'll experience some level of swelling and bruising after dental implant surgery. You can keep your discomfort under control with the help of over-the-counter medications like ibuprofen. (Your dentist might also prescribe pain medication depending on your circumstances.) To reduce your swelling, apply an ice pack to the side of your face for 15 minutes at a time.
You Should Plan on Eating Soft Foods for a While
Even if you receive temporary dentures on the same day as your implant surgery, it will still take some time before your mouth is ready to handle hard or crunchy foods again. Stock up on soft foods that don't require much chewing; good examples include scrambled eggs, mashed potatoes, applesauce, canned fruit, oatmeal, and protein shakes.
You Will Still Be Able to Brush Your Teeth
You might wonder whether or not it's safe to brush your teeth like you normally would while your mouth is still recovering from the All-on-4 procedure. The short answer is yes, you can continue brushing your teeth after your surgery. That said, you need to be very gentle when cleaning around the implant sites. Also, make sure that you're using a soft-bristled toothbrush; hard bristles could potentially damage your new teeth.
You Will Have Multiple Follow-Up Appointments
You'll return to your dentist's office several times in the weeks and months following your implant surgery. Your dental team will keep an eye on your progress during your recovery to make sure that there aren't long-term complications. During these visits, feel free to ask for advice on taking proper care of your new smile at home.
Once All-on-4 recovery is complete, you'll be able to enjoy the life-changing benefits of beautiful new teeth anchored in place by sturdy, reliable implant posts. If you still have some questions about what you can expect while your mouth is healing, remember that you can always reach out to your dentist's office.
About the Author
Dr. William Carini earned his Doctor of Dental Surgery at the Marquette University School of Dentistry. Since graduation, he has taken many courses dedicated to implant dentistry. At Advanced Dental Treatment Center in Greenfield, he can offer All-on-4 as a solution for patients who have lost all of their teeth in their upper or lower jaws. To schedule a consultation with Dr. Carini, visit his website or call (414) 209-7463.