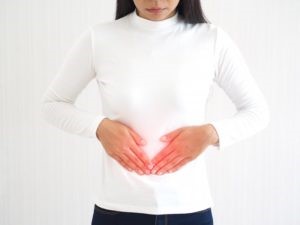 Crohn's disease is a chronic inflammatory condition of the gastrointestinal tract; it belongs to a group of familiar disorders known as inflammatory bowel diseases (IBD). However, what many people don't realize is that these conditions don't just affect your digestive tract; they can also impact your dental health! Keep reading to learn more from your dentist in Greenfield about this strange link along with some things you can do to keep your smile healthy if you suffer from Crohn's disease.
How Can Crohn's Disease Impact My Oral Health?
There are various dental health problems that can spawn as a result of the inflammation resulting from Crohn's disease or the medications that are taken to manage it, including:
Gingivitis & Periodontitis – Early gum disease (gingivitis) that advances into periodontitis can wreak havoc inside of your mouth, and people with IBD have been shown to experience gum infections more often than those without IBD.
Xerostomia – This occurs when the salivary glands in the oral cavity don't produce enough saliva, which increases the risk of all sorts of problems.
Oral granulomatosis – This is defined as the swelling of the orofacial area, mainly the lips.
Erythema – This occurs when the gingival tissue appears irritated and red.
Aphthous ulcers – These painful ulcers are also known as canker sores, and they're usually found all around the oral cavity.
Mucosal tags – These also appear as a result of Crohn's disease and look like skin tags inside the mouth.
Cavities – People with IBD are also at a much higher risk of tooth decay and cavities.
How Can I Keep My Smile Healthy with Crohn's Disease?
Patients with IBD including Crohn's disease should see their normal physicians on a routine basis for treatment in addition to visiting their dentist regularly. As with many other aspects of healthcare, preventive dental care is important for avoiding serious problems down the road. It is also important to maintain a clean and healthy mouth if you suffer from Crohn's disease by brushing your teeth twice daily, flossing, and rinsing with an antibacterial mouthwash.
Your Crohn's disease might make dental care a little extra tricky, but it isn't impossible. Just like taking medication, looking after your mouth will also help minimize the impact that Crohn's has on your life.
About the Practice
The team at Advanced Dental Treatment Center is honored to serve patients and families in the Greenfield, WI community. The practice is led by Dr. William Carini and Dr. Kirsten Farr, who both are experienced in several fields of dentistry. Their practice is pleased to offer a wide range of available services including preventive, cosmetic, and restorative options. If you have any questions or concerns about how Crohn's disease might be affecting your dental health, or if you'd like to schedule a visit, feel free to contact the practice through their website or by phone: (414) 209-7463.