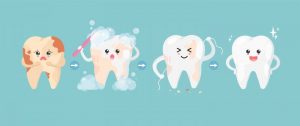 Think about some of your most sociable friends and how much of a joy they are to be around. When people give off good vibes, it draws others like bees to flowers. A big part of being friendly is smiling.
There's nothing worse than wanting to smile and be friendly, but then second-guessing yourself due to insecurities stemming from your smile. There are several types of tooth stains, and you shouldn't let any of them stand in your way.
Below you will find more information on the different types of tooth stains in Greenfield and what your dentist can do to help brighten your smile!
What Differentiates the Tooth Stains People Can Get?
There are extrinsic stains, which means the surface of the tooth is stained. The tooth enamel gets covered by a film of protein that is a result of stain particle accumulation. Culprits in extrinsic staining include dark soft drinks, wine, coffee, tea, tobacco, and pigmented fruits and vegetables.
When staining occurs below the surface of the tooth, it is an intrinsic stain. Stain-causing particles work through the exterior of the tooth and accumulate within the enamel. This type of staining can result from genetics, certain medications, tooth decay, excessive fluoride use, or trauma to a tooth.
Stains that combine the results of intrinsic and extrinsic tooth discoloration are called age-related stains. Your teeth discolor with age because the dentin naturally yellows through the years. Plus, enamel becomes thinner over time, allowing the dentin to show through.
What Are Removal Methods of Types of Tooth Stains in Greenfield?
Extrinsic stains respond well to regular dental cleanings and brushing your teeth with a whitening toothpaste. Store-bought products could potentially remedy the situation.
Intrinsic stains are more difficult to remove, as they may require bleaching via in-office or at-home teeth-whitening products. Both options are available from your dentist.
Since age-related staining is a combination of both intrinsic and extrinsic factors, a combination of at-home and in-office treatments is best. In addition to implementing a solid at-home oral hygiene routine and avoiding dark-colored beverages, talk to your dentist about an in-office teeth whitening treatment.
What Should You Do if Whitening Products Won't Remove Your Teeth Stains?
Fortunately, your dentist has other options if your tooth stains refuse to go away with whitening products.
Porcelain veneers literally cover up stubborn stains. They are thin sheets of porcelain that are placed on the front-facing surface of your teeth. An added benefit of veneers is that they make your teeth stronger.
Dental bonding utilizes a composite resin to conceal staining. This would be a great option if the cost and time required for treatment are prioritized.
There are a variety of reasons your teeth get stained, and there are several options for cosmetic dentistry in Greenfield you can consider to address the issue. A visit to your dentist is a great place to start since they can examine the staining and formulate an effective treatment plan.
About the Practice
At Advanced Dental Treatment Center, we emphasize comfort, customer service, clinical expertise, cutting-edge technology, and more. We offer many patient comforts, such as massage chairs, noise-canceling headphones, and paraffin wax hand treatments. If you need help with the removal of types of tooth stains in Greenfield, we offer porcelain veneers, cosmetic bonding, and Zoom! Teeth Whitening. You can schedule a consultation for any of these treatments on our website or by calling (414) 209-7463.