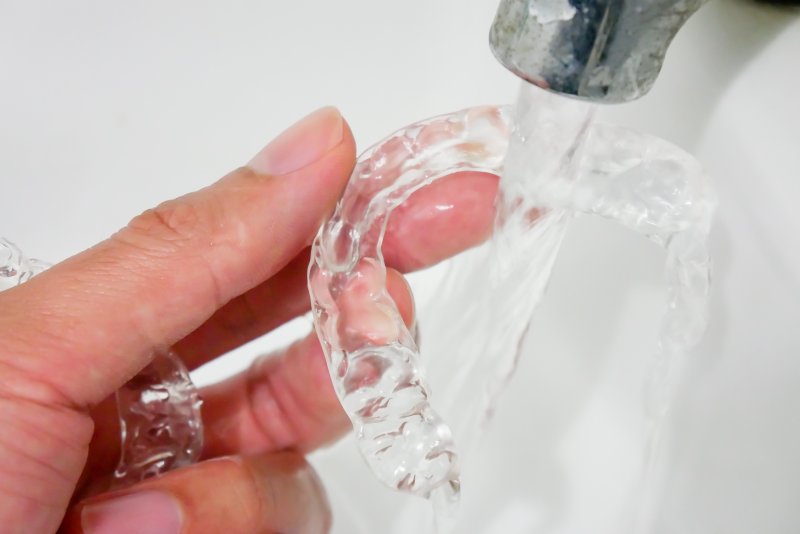 Invisalign is a popular orthodontic solution that uses a series of clear aligners to straighten teeth. Most patients prefer this treatment over traditional metal braces because it's discreet and comfortable. However, if you don't take the steps necessary to keep your aligners clean, they'll become stained and discolored. And if that happens, the benefit of virtual invisibility goes out the windows. Fortunately, cleaning your aligners is a pretty simple process! Here are five tips to keep your trays clean.
Establish an Oral Hygiene Routine
For successful Invisalign treatment, you must wear the clear aligners for the required amount of time (usually 20 to 22 hours every day). That means you have to wear them while you're sleeping as well. During this time, bacteria accumulate on your teeth and aligners. To eliminate bacteria and prevent dental problems, you must brush and floss your teeth first thing in the morning. Therefore, it's crucial that you establish an oral hygiene routine. Make sure you follow it morning and night to keep your mouth bacteria-free and healthy.
Rinse Your Aligners
Although you must wear your aligners for most of the day, there will be a time where you have to remove them long enough to eat and drink. Every time you take them out, it's a good idea to get into the habit of rinsing your aligners before slipping them back in your mouth. Doing so will help keep saliva and plaque build-up to a minimum.
Soak Your Aligners Daily
Sometimes, you'll find it challenging to eliminate all the food particles and other debris from your aligners. To keep your aligners in their very best shape, soak them at least once a day! You can use Invisalign cleaning crystals and soak the trays according to the instructions on the packaging. When they're done soaking, give them a good scrub to remove any lingering particles.
Never Eat or Drink with Your Aligners
One advantage of Invisalign is there are no dietary restrictions while undergoing treatment. However, that's only because you're not supposed to eat or drink anything that's not water while wearing your aligners. Chewing can damage your trays or cause food particles to become trapped in them. Drinking colorful beverages can stain your aligners, making them look dirty and noticeable.
Don't Leave Your Aligners Exposed to Open Air
When the aligners are not in your mouth, they should always be stored in their designated case. Leaving them exposed to open air can not only cause bacteria to form on them, but the chances of misplacing the aligners are much higher as well. If you accidentally leave them lying out in the open, give them a good rinsing before slipping them back in your mouth.
Invisalign is an excellent solution for crooked or misaligned teeth. By following the cleaning tips outlined above, you can get the most out of treatment and keep your aligners looking their very best!
About the Practice
At D&G Dental, we provide outstanding and comprehensive dental services guaranteed to meet all your oral health needs and goals. Our team uses the latest technologies, materials, and techniques to help you achieve a smile you can proudly show off. If you have any questions about cleaning your Invisalign aligners, we're more than happy to answer them for you. For more tips, visit our website or call (414) 209-7463.