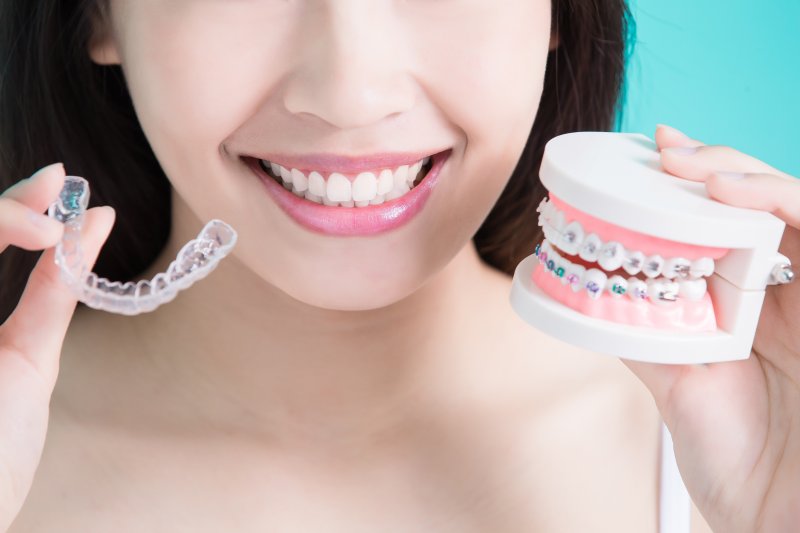 Smile realignment has only gotten better over the past few decades, and now patients have multiple options to consider based on their specific needs. While some cases of misalignment and uneven bites are more severe and require traditional methods to resolve, others can take advantage of alternatives that take less time and can be more comfortable overall. For that reason, it's important to know the differences between Invisalign vs. braces in Greenfield. Keep reading to learn exactly what they are and how to choose the right treatment for you!
What to Know About Traditional Braces
When it comes to orthodontic treatments, traditional metal braces have been around the longest. They consist of a series of brackets that are bonded to teeth which hold a metal archwire. Over time, this archwire is tightened to apply pressure to teeth and shift them into straighter positions. Because the components are made from metal, they are largely visible when smiling, making them less than ideal for working professionals who might care about their appearance.
Additionally, traditional braces:
Are capable of addressing severe cases of misalignment
Contain elastics that wrap around the brackets (and can be different colors if preferred)
Require changes in diet to prevent damage to hardware
Take about two to three years of use to shift teeth
Require visits to an orthodontist every four weeks
Carry a risk of dental emergencies due to potentially poking wires or loose brackets
How They Compare To Invisalign
Invisalign is a treatment that has been around for over 20 years and has proven to be an extremely effective alternative to traditional orthodontics like braces. The system consists of a series of clear, medical-grade, BPA-free plastic aligners that are removable. Each pair is designed to represent a different stage of treatment and gently shift teeth into straighter positions without the use of metal brackets or wires.
In addition, Invisalign:
Requires dedicated patient compliance (i.e. wearing the aligners for about 22 hours per day)
Takes about 12 to 18 months to complete
Is specifically for mild to moderate levels of misalignment
Use transparent materials, making them almost completely unnoticeable during use
Can cause slight changes in speech in the first few days of using a new pair in the series
Requires orthodontic appointments every 6 weeks on average
Which One Should You Choose?
While the only way to know for sure which treatment is right for you is to speak with an orthodontist directly who can perform a detailed exam, those who are in need of significant changes to their smile's alignment will need traditional metal braces. This is also more common for those who need to make adjustments to their uneven bite.
If you are willing to wear Invisalign's clear aligners for the necessary amount of time for realignment to occur and only have mild to moderate changes to make, you may not need to settle for metal braces. This is especially ideal if you are a working professional who wants to maintain a natural-looking smile.
Still not sure which treatment is right for you? Schedule an appointment with a cosmetic dentist in Greenfield to complete an exam and learn more about the process of both!
About Advanced Dental Treatment Center
With their clinical skills combined, Dr. Carini and Dr. Blanchard look forward to making your dream smile a reality. Their expertise in cosmetic dentistry and helping patients shift teeth through treatments like Invisalign are sure to give you confidence about your future smile. To schedule an appointment, you can contact them through their website.