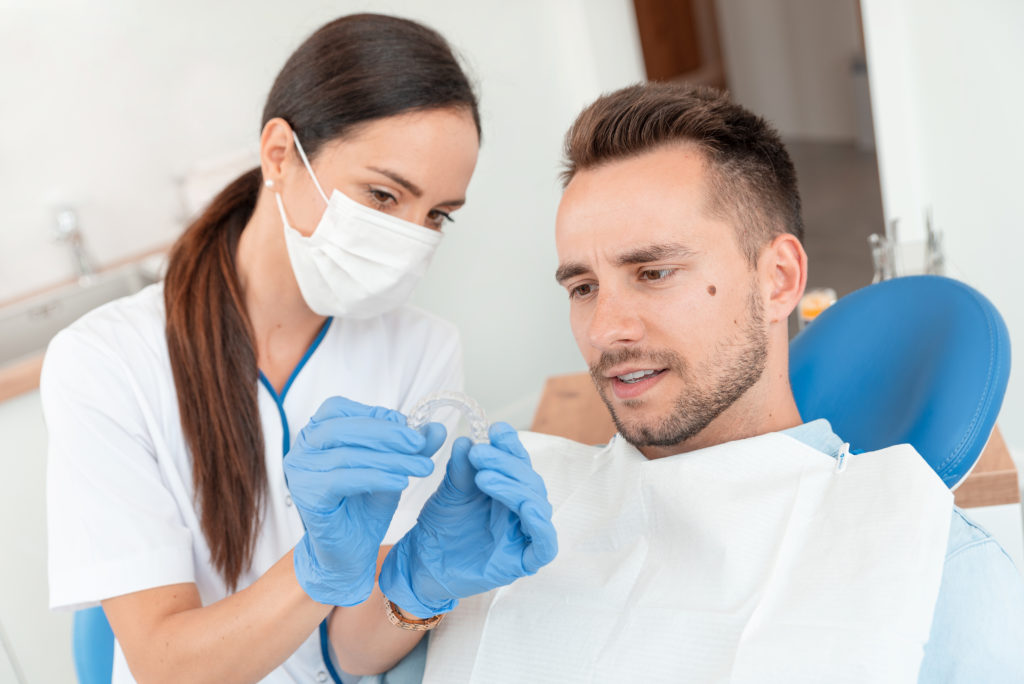 Did you know that 90% of people have experienced embarrassment due to their teeth? According to the National Oral Health Alliance, this overwhelming statistic not only negatively impacts people's self-image, but it also makes them anxious in social situations.
Fortunately, one of the easiest ways to dramatically enhance the smile is straightening the teeth. While decades prior would require metal braces and headgear, today patients can correct their smile with clear, virtually invisible aligners. Here is everything you need to know about Invisalign in Greenfield.
The 4 Step Treatment Process
In 2018 alone, roughly 931,000 people were prescribed Invisalign trays to correct their smiles. However, even with a massive number of patients opting for clear aligners and a 96% satisfaction rate, many are slightly hesitant to begin this treatment. To help ease your concerns, here is an insight into the four-step treatment process from a cosmetic dentist in Greenfield:
Initial consultation – At your first appointment, your dentist will sit down with you to get some preliminary information why you are considering Invisalign. From there, they will conduct a brief examination of your teeth to check whether clear aligners are the right option for the results you want. Lastly, they will discuss the payment process and answer any questions you have before moving forward.
Record taking – To ensure that the trays fit properly, records need to be taken of your teeth. During this step, your dentist will take impressions of your teeth, capture X-rays, and take photos to create a digital model. This will help determine the movement of your teeth throughout treatment so the trays can be made accordingly for each new phase.
First set of aligners – Once the records are sent to Invisalign, your first set of clear trays will be delivered back to your dentist. From there, they will show you how to put them in, discuss proper maintenance, and answer any questions.
Follow-up visits – The complexity of your treatment will dictate the frequency of your appointments. At each one, your dentist will check-in on the progress of your teeth and provide you with the next set of aligners.
5 Advantages of Invisalign
Although Invisalign is primarily known for its ability to help patients achieve a flawlessly straight smile with a virtually invisible treatment, there are other advantages that make it a leading choice nationwide:
There are no food restrictions.
The trays are removable for special occasions.
The aligners are more comfortable than metal braces.
There are fewer appointments needed.
Patients report easier maintenance.
Tips for Taking Care of Your Aligners
To achieve the result you want, each set of aligners must be cared for properly. To ensure the integrity of each tray, follow these best practices:
Rinse them with clean, running water anytime you remove them.
Soak the trays regularly in an Invisalign-friendly solution.
Maintain a consistent oral hygiene routine.
Brush the aligners gently to remove bacteria without scuffing the surface.
With its proven effectiveness and ease of use, it's no wonder why Invisalign has remained the top choice for achieving beautiful, healthy smiles. If you are looking to join the 8 million patients who have boosted their self-confidence with clear aligners, talk to your dentist today!
About Advanced Dental Treatment Center
With a focus on comfort and a passion for customer service, the professionals at Advanced Dental Treatment Center are the leading experts on general, restorative, and cosmetic dentistry in Greenfield. In addition to their clinical expertise, Dr. Carini, Dr. Blanchard, and the entire team are known for their exemplary care and philosophy built on prevention. If you are considering Invisalign, don't hesitate to visit their website or give them a call at 414-258-9630.