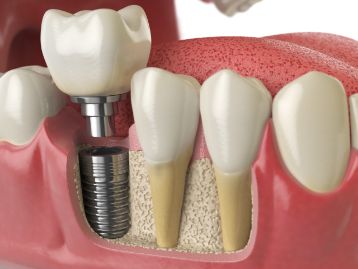 Dental implants are widely considered the gold standard in tooth replacement for a reason: They look and feel more natural than any other option and can last 30 years or more with proper care. They also have a success rate of over 95%! But while the failure rate is quite low, it's still a good idea to be aware of the signs of implant failure and what you can do to minimize your risk. This information will help you get the most from your investment so you can enjoy the many benefits of dental implants in Greenfield for life!
Common Signs of Dental Implant Failure
Ongoing moderate or severe pain in the area
A loose or mobile implant
Gum recession
Inflammation around the implant such as bleeding or swollen, tender gums
Pain or discomfort when chewing
What Causes Dental Implants To Fail and How Can You Prevent It?
The following are all potential reasons for dental implant failure, along with tips for reducing your risk:
Smoking – Smokers don't heal as well as non-smokers, so they have a lower success rate of about 85%. If you use tobacco, talk to your dentist or doctor about help with quitting.
Gum disease – If not kept clean, the "pockets" of gum tissue around your implant can collect plaque and bacteria and become infected. To prevent this, be sure to brush the gumline gently but thoroughly at least twice a day and floss at least once (oral irrigators are also helpful). It's also very important to get regular checkups and cleanings so that any signs of gum trouble can be found and treated early.
Inadequate bone – If you lost your teeth a long time ago, you may not have bone density left in your jaw to support an implant. In these cases, a bone graft can often be done to strengthen your jaw before your implant procedure. A dentist will evaluate the health of your jawbone before making a recommendation.
Clenching and grinding – Chronic nighttime clenching and grinding can put more force on an implant than it can sustain, causing it to become loose over time. A custom-made night guard can protect your implant from being damaged.
Dental implants are often the preferred choice for tooth replacement. By being aware of the risk factors for failure and caring for your implants properly, your chance of success will be even greater than the usual 95%. And, with odds like that, you can feel confident that you'll enjoy a healthy smile for life!
About the Author
Dr. William Carini is a general, cosmetic and restorative dentist in Greenfield. With over 20 years of experience and advanced training and technology, he's able to provide outstanding implant dentistry from start to finish. To lower the chance of implant failure, he always educates his patients on the best way to maintain their implants over the long-term. If you'd like to know more about dental implants or have any questions, he can be reached via his website.