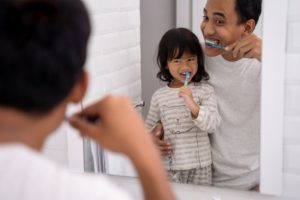 Cavities are one of the most common oral health problem among children. While this issue is preventable, according to the National Institute of Dental and Craniofacial Research, 42 percent of children between the ages of two and 11 develop at least one cavity in their temporary teeth. As a parent, this can cause you to be concerned and worried about whether or not they understand the importance of taking care of their developing smile. Luckily, your family dentist in Greenfield offers multiple preventive dental treatments for children to ward off the lingering threat of cavity formation. Read on to learn more about fluoride treatments and dental sealants, and how they can minimize your little one's risk of oral health problems.
What are Dental Sealants?
A family dentist in Greenfield offers several treatments to keep children from developing cavities, one of which are dental sealants. This procedure is fast and effective, so you won't have to worry about your child becoming restless in a treatment chair. They are thin shields painted over molars or premolars that act as small raincoats to prevent sugar from settling directly onto them and causing cavities to form. The treatment itself takes about five minutes to complete, and the sealants will last for years, or until your child's temporary teeth are lost. That way, you won't have to worry about food particles and bacteria becoming trapped in the crevices of their pearly whites and accelerating the rate of dental decay, impacting their mouth forever.
What are Fluoride Treatments?
Another great solution to strengthen your child's teeth and keep harmful substances from causing common oral health problems is to ask your dentist about fluoride treatments. Fluoride is a natural mineral that helps support the development of tooth enamel that protects teeth and prevents cavities. For the treatment, it's given in the form of a highly concentrated rinse or foam that needs to be swished or washed in your child's mouth for just a few minutes. Your family dentist can let you know if your little one can benefit from this preventive measure during their next checkup and cleaning.
How Can You Keep Your Child's Mouth Healthy?
At times, it can seem hard to keep your child inspired about taking care of their mouth. Taking them to visit their dentist every six months for checkups and cleanings is a great way to get them inspired to brush and floss every day. Some other ways you can reduce your child's risk of developing common oral health issues include:
Keeping them hydrated with water.
Encouraging them to maintain a nutritious diet.
Getting them dental hygiene tools that are easy for them to maneuver and handle.
If you're wondering about how you can improve your little one's dental health, look no further than your family dentist. They can recommend helpful hygiene products and preventive treatments that can keep cavities from ever becoming a problem in the first place. That way, you'll be able to rest assured that your child has the tools and techniques they need to maintain beautiful pearly whites as adults.
About the Author
Dr. William Carini has over two decades of dental experience under his belt. He enjoys spending time getting to know each family that comes to visit him and watching small children grow into adults, eventually bringing the next generation in for routine checkups and cleanings. He has taken countless advanced dental courses so he can provide every family with comprehensive dental care, including every service from a typical checkup and cleaning to BOTOX and dermal fillers for parents. For questions or to schedule a routine visit, visit Advanced Dental Treatment Center's website or call 414-209-7463.