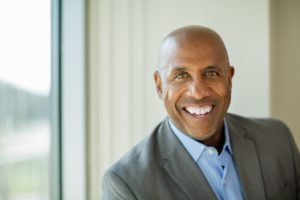 If you've recently been suffering from tooth loss or have never been able to decide what tooth replacement option is the best for you, then you could benefit from getting dental implants in Greenfield. This modern solution offers countless advantages over traditional restorative procedures such as dentures, fixed bridges, and dental crowns. If you're wondering whether or not you're a good candidate, here are four qualities that dentists look for in a patient who would like to get dental implants.
Good Oral Health
With proper care and maintenance, your dental implants can last for several decades. However, even before the procedure begins, it is important to minimize complications by having good oral health. That means that you brush twice each day for two minutes, floss daily, and rinse with antibacterial mouthwash regularly. If you suffer from oral health problems such as gum disease, cavities, or tooth infections, your dentist in Greenfield will need to treat those issues before your surgery can be scheduled.
Free of Bad Oral Habits
Bad oral habits such as nail-biting, teeth grinding, and smoking can cause your dental implants to fail or their lifespan to shrink. To prevent this from happening, it's important to speak with your implant dentist about your oral habits during your consultation. They can help you develop a plan or treatment to keep these issues from causing excessive wear-and-tear on your replacement teeth and future complications.
Sufficient Jawbone Density
During your initial consultation, your implant dentist will take several images of your mouth and facial structure. This is to examine the density of your jawbone. When patients have lived with gaps in their smile for years, it can cause their jawbone to deteriorate due to a lack of stimulation. If this is the case for you, you may need a bone graft before your implant surgery. This way, your jawbone will be thick enough to provide a stable and strong foundation for your titanium implants.
Free of Immunodeficiencies
While it's often completely out of your control, diseases and conditions that cause a weakened immune system can have a drastic impact on your body's ability to properly heal from your dental implant surgery. This can increase the risk of implant failure, resulting in additional damage or issues such as infections. Because of this, most dentists may advise patients with immunodeficiencies or certain diseases against getting dental implants, because it could put their overall wellbeing at risk.
Whether you embody these qualities of a good candidate for dental implants or not, it's always a good idea to visit your dentist for a consultation. With an in-person examination, your dentist will be able to let you know if implants are the right choice for you, or if there's a better option you could benefit from. No matter what the outcome of your initial visit is, replacing your missing teeth is vital for quality livelihood and good oral health.
About the Author
Dr. William Carini has over 20 years of experience restoring and optimizing the health of his patients' smiles. He has completed several advanced training seminars to sharpen his skills in implant dentistry and keep him up-to-date with the latest technology and techniques that the dental world has to offer. He has also attended several courses with nationally recognized Spear Education. For questions or to schedule a consultation for dental implants, visit Advanced Dental Treatments Center's website or call 414-209-7463.