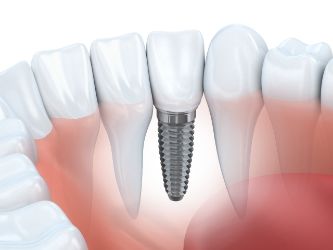 If you've recently gotten dental implants in Greenfield (or will be soon), you're well on your way to having a beautiful, fully restored smile. But after your implant surgery, you may be wondering what you can eat and what you should avoid to help your recovery process go smoothly. Keep reading for some great ideas about what to eat after your procedure and get some long-term maintenance tips to keep your implants in great shape for life.
Your Diet After Implant Surgery
Although implant placement is considered relatively minor surgery, it still takes about 5-7 days for your tissues to fully heal. During that time, you'll have mild to moderate tenderness and swelling, so you'll want to avoid all of the following:
Hard, crunchy or sticky foods like nuts, crusty bread, popcorn, or hard fruits and vegetables.
Hot foods or beverages
Spicy foods
Small seeds (poppy, sesame, etc.) or foods like rice or quinoa that could easily get lodged under the gums
Instead, focus on soft foods such as the following:
Breakfast– Oatmeal, mashed bananas with brown sugar, scrambled eggs, smoothies, protein shakes, yogurt, or mashed avocado with salt and pepper
Lunch – Creamed soups (warm, not hot), applesauce, cottage cheese, chicken or tuna salad, hummus, macaroni and cheese
Dinner– Pasta, cooked vegetables, meatloaf, refried beans, guacamole, mashed potatoes, soft bread, stews
Dessert – Baked apples, pudding or custard, frozen yogurt
How Can You Maintain Your Implants Over the Long-Term?
With proper care, your implants can last 30 years or more. Here are some basic guidelines to follow:
Get regular checkups – Routine visits with a dentist in Greenfield are important to monitor your implants and make sure the bone levels and gum tissue around them stay healthy.
Do a great job with brushing and flossing– Implants can't get cavities, but they can develop a type of gum disease that can potentially cause failure. Keep the gums clean and healthy by brushing (gently but thoroughly) at least twice a day and flossing at least once.
Wear a nightguard if necessary – If you clench and grind at night, a nightguard is a good idea to protect your implants from strong biting forces.
Use the right tools – Some patients do better by using special tools like interdental brushes, woven floss, or an oral irrigator.
After getting implants, you'll have great oral health and a beautiful smile. By eating the right foods while you're recovering and practicing good oral hygiene habits, you can make sure your new smile lasts for many years!
About the Author
Dr. William Carini is a general, cosmetic and restorative dentist in Greenfield and a graduate of Marquette University School of Dentistry. After implant surgery, he always explains the best way for patients to maintain their new teeth and keep them healthy for life. If you have any questions about dental implants, he can be reached via his website.