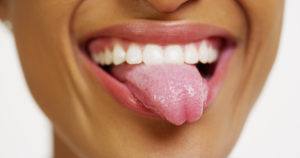 Did you know that the surface of your tongue is completely unique, just like your fingerprints? Your tongue also heals faster than any other body part and has between 3,000 and 10,000 taste buds. Apparently, there's more to your tongue than you may have realized!
But as any dentist in Greenfield will tell you, a sore or painful tongue can really affect your quality of life. After all, you use it every single day to eat and speak comfortably. Keep reading to learn about three of the most common reasons for an uncomfortable tongue and how you can take care of them!
Burning Mouth Syndrome
Just like the name implies, the symptoms of burning mouth syndrome include a burning or tingling sensation of the tongue.
The jury is still out on what causes BMS, but doctors think that ill-fitting dentures, allergic reactions, anxiety, stress and nutritional deficiencies may all be factors.
Since the causes of this condition aren't well understood and can vary from patient to patient, your dentist will recommend ways to treat the symptoms based on your individual history.
Bite or Other Trauma
If you've burned, bitten or injured your tongue in an accident, you might have suddenly notice inflamed papilla that are red, swollen or tender.
If your tongue is acutely painful or inflamed, there are some over-the-counter rinses you can use to soothe the tissue and promote healing. Swishing salt water several times a day can also help. These remedies will help you get through the day without as much pain.
Injuries are never fun, but at least your tongue heals very fast and will recover quickly!
Canker Sore
Canker sores are quite common and can be fairly uncomfortable. They often appear as small, round, ulcerated areas on the tongue.
Aside from the temporary discomfort, they aren't serious or dangerous. Here are some potential causes:
Stress
Some foods can trigger canker sores
Hormones
Trauma, such a bite or burn
Quitting smoking
Nutritional deficiencies
Canker sores usually resolve in 1-2 weeks. For pain, there are several over-the-counter products that can soothe and protect the area while it's healing.
How Can You Take Care of Your Tongue?
Many people only think about their teeth and gums when they're brushing each day. But your tongue actually harbors an estimated 50% of the bacteria in your mouth. This bacteria contributes to bad breath, cavities and gum disease, so removing it is important to every aspect of your oral health.
Make it a habit to brush your tongue or use a tongue scraper at least once each day. And don't hesitate to call a family dentist in Greenfield if you have any sudden or severe tongue pain.
Follow these simple guidelines and your tongue will thank you!
About the Author
Dr. William Carini is a general, restorative and cosmetic dentist who has made it a priority to provide outstanding comprehensive dental care to his community. He knows that a painful tongue can ruin anyone's day and enjoys helping his patients prevent and treat any issues they might be having. If you have any questions, he can be reached via his website or at (414) 209 –7463.