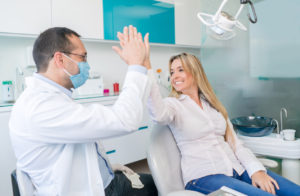 Your current dentist is providing adequate care, but do you really just want to settle for adequate? Why accept okay dental care when your family could be receiving great dental care from your new family dentist in Greenfield at Advanced Dental Treatments Center. You deserve a dentist that is willing to go above and beyond to make you feel comfortable, provide you modern dental services, and puts your convenience first. Our office can do all of that and more for patients that decide to visit our office.
How much experience does this office have?
We first recommend reviewing your potential dentist's website. Whenever looking for a health professional, this should be the place you can find the information you need to know—especially a dentists background and interests in his local community. It is always in the best interest of your family to visit practices that have extensive practice and education in their field. Not only will your doctor be knowledgeable about the treatments and procedures that are best for you, but he or she will have hands-on experience working with various patients and a wide range of dental issues.
Dr. William J. Carini completed his dental degree at Marquette University School of Dentistry just about 30 years ago. Since then he has been committed to serving his community by providing and improving beautiful, healthy smiles.
What services does my dentist offer?
You can tell whether a dentist is truly invested in providing you the best care with what types of services are offered. Your dentist should be concerned for your overall health, not just your oral health. By Advanced Dental Treatment Center offering services in preventive dentistry, we show that we are working with you to avoid dental problems in the future the best way we know how. We also offer restorative and cosmetic services to patient's that wish to fix their smiles. We also have sedation dentistry available for anxious patients that don't feel comfortable visiting the dentist. Everyone can receive the dental care they deserve. Some of the most popular services we offer include:
Sedation Dentistry
Laser Gum Therapy
Porcelain Veneers
Sedation Services
What do other people say about my dentist?
When you're conducting your research, take notice if they're website has an area designated for patients to explain their experiences there. Testimonial or review pages always give you the good and the bad. These are actual people explaining their own experiences with their practice. Check out our testimonial page to see all the great experiences our patients have had!
Our office even has a great deal for patients who have had an exceptional experience with us. If you've had a great time visiting our office, refer friends and family and not only receive visa gift cards for your referrals, but be entered to win a Luxury Caribbean Getaway!
Is their office convenient to you?
If you need emergency dental care, it is important to have a dentist near you. Also, consider the office hours and if your day to day schedule meshes well with theirs. Feel free to review our office hours, contact information, and locate our office in Greenfield. We also serve all surrounding areas like Greendale, New Berlin, Brookfield, Franklin, and Milwaukee. Contact us today to schedule your appointment!