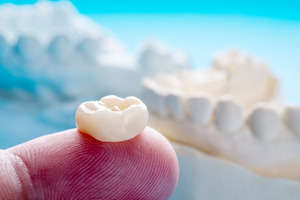 Dental crowns, often described as "caps" for our teeth, are custom-made covers to restore damaged teeth. Whether due to an accidental bump or a bite into something hard, losing one can be quite alarming. If you find yourself in this situation, here's a guide on what to do next.
Stay Calm and Act Swiftly
First and foremost, don't panic. While it's unsettling, remember that this is a common dental issue and can be resolved. After realizing the crown is missing, your next step should be to find it. It's crucial both to prevent the potential hazard of accidentally swallowing it and to assess whether it can be reused.
Handle with Care
If you manage to locate the crown, handle it delicately. Rinse it gently using lukewarm water, ensuring you don't cause any further damage. Meanwhile, be cautious while eating to avoid placing any undue pressure on the now exposed tooth. To keep the area clean, continue practicing your regular oral hygiene routine, but be extra gentle around the affected site.
Temporary Measures
While your top priority should be seeing a dentist as soon as possible, there are a few temporary solutions to consider. Over-the-counter dental cement can offer a makeshift fix. Alternatively, denture adhesive can help hold the crown in place for a short period. Remember, these are just temporary solutions. And a word of caution: steer clear of household glues. They're not meant for oral use and can introduce toxins or cause further damage.
The Dentist's Chair
The importance of a professional assessment cannot be overstressed. Only a dentist can accurately determine the state of the exposed tooth and the interior of the crown. If conditions permit and the crown is still in good shape, your dentist might reattach it. However, if there's decay or damage underneath, prepping for a new crown might be necessary.
Prevention is the Best Cure
To prevent such mishaps in the future, regular dental check-ups are a must. These visits can help identify potential issues before they become problematic. Additionally, be mindful of hard foods that might jeopardize your crowns. And if you're someone who's physically active or known to grind their teeth at night, protective gear like mouthguards or nightguards can be invaluable.
Losing a dental crown, while distressing, is a manageable issue. By staying calm, acting quickly, and seeking professional help, you can have your smile back in no time. Remember, your dental health is an integral aspect of your overall well-being, so always give it the attention it deserves.
About Our Practice
At Advanced Dental Treatment Center in Greenfield, WI, we prioritize comprehensive oral healthcare, blending comfort, customer service, and clinical expertise with cutting-edge technology. Dr. Carini, Dr. Farr, and our dedicated team are driven to cater to each patient's unique needs, ensuring a radiant smile. Our ethos revolves around proactive prevention, fostering robust oral health through regular check-ups. We promise to extend the warmth, courtesy, and care we'd expect in a dental setting, making our practice distinctly patient-centric.
If you have any questions about dental crowns, we can be reached at our website or by phone at (414) 209-7465.