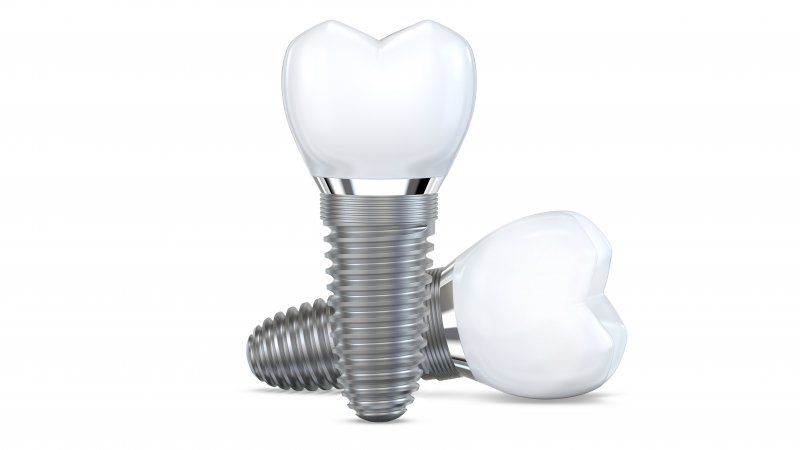 If you're interested in replacing your teeth, you've probably heard a lot about what dental implants are capable of. They're strong, durable, look realistic, and they're often much easier to take care of than dentures or bridges.
You may even wonder whether dental implants could be resistant to tooth decay and other oral health problems. Here's some information about whether cavities are a concern for people with dental implants.
Dental Implants and Cavities
As you may know, cavities are a consequence of bacteria that live in the mouth. These bacteria consume simple sugars and excrete acids that corrode enamel, which is the building block of your teeth.
The crown of a dental implant, however, is made out of porcelain. This porcelain is resistant to acid erosion, which means that it will be unaffected by that bacteria. To make a long story short, you won't have to worry about your dental implant getting a cavity.
Gum Disease: The Real Threat
That said, there are oral health problems that can be a serious issue for a dental implant. Gum disease is the biggest one.
If gum disease is allowed to progress, these bacteria can begin to slip under the gumline and attack bone tissue. This leads to a condition known as peri-implantitis, where the jaw around the dental implant begins to erode away.
In addition to being deeply uncomfortable, peri-implantitis can weaken the foundation your dental implant sits in, potentially causing it to fall out. For that reason, it's vitally important to the health of your dental implant to stave off gum disease with good dental hygiene.
How to Care for Your Dental Implant
Now that you know how important caring for your implant is, here are some steps that you can take to keep that dental implant in as good of condition as possible:
Brush your dental implant twice a day. Take care not to use whitening or abrasive toothpaste, as this can damage the porcelain on your dental implants.
Floss around your dental implant. It's worth noting that you should never push below the gum ridge as you floss; you could break the artificial seal connecting your implant to your gums.
Use antibacterial mouthwash after brushing to keep gum disease at bay
See your dentist regularly for checkups and cleanings
About Our Practice
At Advanced Dental Treatment Center, we make it our mission to ensure that every patient feels like they have what they need to get a healthy, beautiful smile. We get to know every single one of our patients as an individual, understand their unique needs, and work with them to guarantee that they can get the incredible dental treatment that they deserve.
If you have any questions about dental implants, we can be reached at our website or by phone at (414) 209-7463.