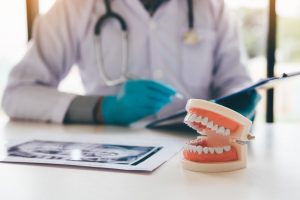 Of the 35 million Americans who are missing all of their teeth, approximately 90% of them wear dentures. That said, despite the large number of patients who turn towards the prosthetics, they're still greatly misunderstood—and unfortunately, there are many weird myths and falsehoods floating around about them. But despite what you've maybe heard, dentures are actually a pretty awesome solution for replacing missing teeth. Keep reading as your dentist in Greenfield debunks five of the most common myths about dentures.
Myth #1: Dentures Are Unattractive
While cheaper dentures that are made of inexpensive materials will give you a relatively weird-looking and unattractive smile, high-quality dentures look just like your natural teeth and are quite gorgeous. These dentures are made from top-of-the-line materials and utilize neuromuscular principles—they enhance your whole face by reducing mouth wrinkles and loose skin around the neck and chin. Simply put, high-quality dentures are the real deal!
Myth #2: Dentures Aren't Custom-Made
Everyone's mouth is unique, meaning that everyone has their own individual dental needs. This means that in order for a solution to be effective, it needs to be customized specifically for the patient. Cheaper dentures are usually one-size-fits-all and likely won't fit your mouth the way they need to. But high-quality dentures are crafted with your specific needs in mind and will snugly fit inside of your mouth. This drastically lowers the chances of you encountering problems with your dentures, meaning that you can reap all the benefits they have to offer.
Myth #3: Dentures Are Worn All Day & Night
There are a few different types of dentures, but most of them are removable and not worn 24/7. Fixed dentures (dentures attached to dental implants) are an exception to this, and they cannot be removed without the help of your dentist. However, non-fixed dentures are completely removable and need to be taken out at night. This gives you the chance to clean them, while also giving your mouth a much-needed break from wearing them.
Myth #4: You Don't Have to Clean Your Dentures
Wearing dentures does not exempt you from practicing good oral hygiene! Dentures require regular cleaning and proper maintenance and can absolutely fail if you don't take great care of them. Your gums, tongue, and dentures can all collect food debris and bacteria that'll cause problems; keeping your mouth as clean as possible will ensure that your dentures last (and don't become smelly or unpleasant to wear).
Myth #5: Dentures Last Forever
Unfortunately, dentures don't last forever, even if you take great care of them. They're intended to be temporary appliances and on average they usually last for 5 to 8 years. The daily wear from biting and chewing will gradually take its toll, and even fixed dentures attached to dental implants will eventually need to be replaced. Dentures made from cheaper materials will last for an even shorter period!
If you have missing teeth and are ready to do something about it, don't let all of the false facts and myths surrounding dentures deter you from getting them!
About the Author
Dr. William Carini received his dental doctorate at the Marquette University School of Dentistry and is a proud member of several notable organizations including the American Dental Association and the Academy of General Dentistry. His practice is pleased to offer a wide range of available services including dentures. If you have any questions about the article or would like to arrange a visit, you can contact Dr. Carini's practice online or over the phone: (414) 209-7463.