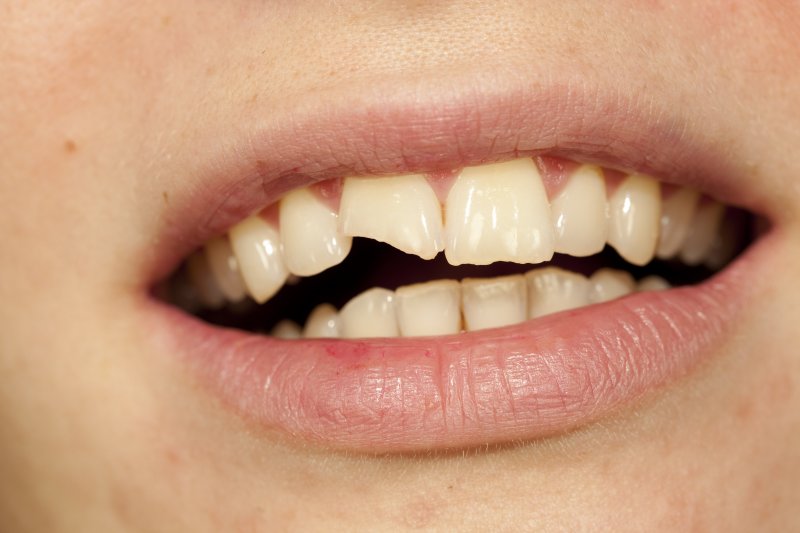 The human body is miraculous! If you get a paper cut or bruise yourself after bumping into the coffee table. Your body will repair itself within weeks or even days of the incident depending on the severity of the injury. Your body has the ability to fight off infections and restore its health. However, does this apply to teeth that have been damaged? If you have a chipped tooth, will it resolve itself? Here's what you should know.
Will a Chipped Tooth Repair Itself?
Enamel may be the hardest substance in your body, but it doesn't have the ability to heal on its own. That means that chipped teeth, no matter how minor or severe, will not repair themselves. At their best, teeth can remineralize, but they will not grow back. Only restorative or cosmetic dental treatments are able to restore teeth that have been broken or chipped.
Do You Need to Visit the Dentist for Minor Chips?
Teeth that have been chipped will only become damaged further if you don't receive dental treatment. Depending on the severity of the break, there are a variety of solutions that can help to restore the appearance and integrity of your smile. It's especially important to head to the dental office if the tooth is sharp or jagged, as you could end up accidentally cutting your gums or other soft tissues.
What Treatments Can Be Used to Fix a Chipped Tooth?
Your dentist is likely to recommend one of these two options for your chipped tooth:
Direct Bonding
Minor chips can be corrected with direct bonding. This involves the use of a tooth-colored composite resin that is sculpted and shaped to match the exact size, shape, and color needed to blend in with the rest of your tooth. This is an affordable option that can easily fix small chips and other flaws, like gaps and stains. Depending on the location and how well you care for it, bonding can last up to ten years before you need touchups again.
Veneers
A veneer is a thin shell made from wafer-thin, custom-made tooth-colored porcelain. It is designed to cover the front surface of the tooth to improve its appearance. This can be placed in just two easy visits to your dentist. The first appointment involves preparing your tooth by removing a small amount of protective enamel from the front-facing surface of the tooth. Bite impressions are then taken and sent to the laboratory where your veneer will be created. In just a few weeks, you will have another appointment where your dentist will place your veneer on your tooth. This option is ideal for fixing chips, misshapen teeth, stains, small gaps, and undersized teeth. It should last approximately 10-15 years with proper maintenance.
Dental Crown
If you have a more severe chip, a dental crown may be needed to protect your tooth from additional damage. First, some of your protective enamel is removed to make room for the crown to fit comfortably in your mouth. Next, digital impressions are taken so your new restoration can be customized perfectly for your smile. In just a couple of weeks, your tooth will be restored and protected.
Your chipped tooth may not heal on its own, but there are solutions for correcting it. By seeing your dentist at your earliest convenience, you can discuss which option is ideal for you.
About the Author
Dr. William Carini earned his Doctor of Dental Surgery degree from the Marquette University School of Dentistry and is committed to continuing education to keep his knowledge and skills sharp. He has attended various trainings with Spear Education, and recently trained to use Botox/dermal fillers with the Academy of Facial Esthetics. Currently, he is a proud member of the Academy of Laser Dentistry. If you have a chipped tooth, he would be happy to help. For more information or to schedule an appointment at his office in Greenfield, visit his website or call (414) 209-7463.