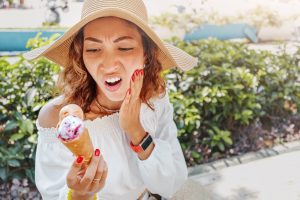 Summer is now in full swing, and there's nothing like an ice cream cone for staying cool in this hot weather! But if you experience tooth sensitivity upon biting into it, you might suddenly not feel so enthusiastic about finishing your frozen treat. But is this type of sensitivity considered a dental emergency? And does it warrant a trip to your emergency dentist? Keep reading to learn more about tooth sensitivity, what causes it, and what you can do to alleviate the discomfort it causes.
What Causes Dental Sensitivity?
There are many different things that can cause dental hypersensitivity, from ice cream to piping-hot coffee. Healthy teeth have a thick layer of enamel that protects the crown. But underneath the enamel is a layer of dentin, which helps to preserve and regulate the nerves and cells inside of your teeth. When this layer of dentin becomes exposed, hypersensitivity can become a major issue. Sometimes this sensation is mildly uncomfortable, while other times it can be almost debilitating. If you're experiencing sensitivity, you might be affected by one of the following:
Chipped or fractured tooth.
Eroded dental filling.
Gum disease.
Worn tooth enamel.
Exposed tooth root.
Is Dental Sensitivity an Emergency?
If you're suffering from unusual dental sensitivity, you should contact your dentist—especially if you're experiencing chronic pain, or the sensation is affecting multiple teeth. If the sensitivity is short-lived and only occurs when something hot or cold touches your teeth, it usually isn't a serious emergency. However, if the sensation continues to last for 20 or more seconds, you should act quickly. Your dentist will be able to investigate the cause of the hypersensitivity and provide you with a solution.
How Is Dental Sensitivity Treated?
Since it's a fairly common issue, there are fortunately many ways to address dental sensitivity, though it will depend on what is causing it. Some treatments include desensitizing toothpastes and fluoride gels, crowns, or even dental bonding. In serious cases, a surgical gum graft or even root canal therapy can be effective solutions. There are also smaller ways to alleviate the associated symptoms prior to receiving professional treatment, including drinking lukewarm water, avoiding extremely hot or cold foods and drinks, and taking over-the-counter pain relievers as needed.
Sensitive teeth can do a lot to disrupt you, but it's an issue that can easily be remedied by your dentist. With a little help, you'll be back to enjoying ice cream in no time at all!
About the Practice
Advanced Dental Treatment Center proudly serves patients and families in the Greenfield, WI area under the leadership of Dr. William Carini and Dr. Kirsten Farr. Together they combine several years of experience and expertise to provide patients with an elite level of dental care. Their practice is pleased to offer several available services including preventive, cosmetic, and restorative dentistry. If you have any questions or concerns about tooth sensitivity or would like to schedule an appointment, don't hesitate to contact the practice online or by phone: (414) 209-7463.