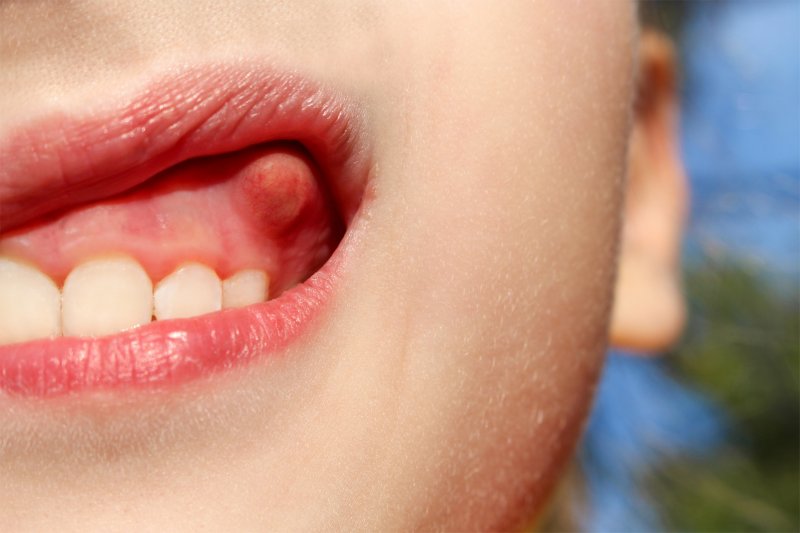 Imagine you wake up one morning and notice a small lump on your gum line. You're likely to either underreact or overreact in that situation. You might think the lump is just a harmless swelling that'll fade on its own. Conversely, you could conclude it's cancerous or a sign of serious infection. But isn't there a better way to name the bump than immediate, unthinking reactions?
The answer to that question is "yes." Here are some probable causes for a bump on gums from Greenfield dentists. Read it over to give a measured treatment if you develop a gum bump in the future.
Causes for Bumps on Gums
A bump on your gums usually isn't a medical emergency. Still, you should know potential causes to recognize whether it's something serious. For instance, some triggers for gum bumps include cysts, abscesses, fibroma, and oral cancer.
Dental Cysts:
Dental cysts are small bubbles filled with air, liquid, or other soft materials that can form on your gums. They usually grow slowly and rarely cause negative symptoms unless they're infected. If infection does occur, you might notice pain and swelling around the bump.
Abscesses:
An abscess on the gums is called a periodontal abscess. It's essentially a small collection of pus caused by bacterial infection.
Dental abscesses are often very painful, so visit your local dental practice if you get one. Dentists can remove the source of the infection and drain the pus.
Fibroma:
Oral fibromas are noncancerous lumps that form on irritated gum tissues. They usually occur due to irritation from dentures or other oral devices.
These fibromas are usually painless and feel like hard, smooth, dome-shaped lumps. They may look either darker or lighter than the rest of your gums.
Oral Cancer:
Oral cancer is any cancer in your oral cavity, including your gums. A cancerous tumor on your gums might look like a small growth, lump, or thickened skin.
Other symptoms are unhealing sores, white or red patches on your gums, a sore throat, and various mouth pains.
When to See Your Dentist
Call your doctor right away if you notice any of the following symptoms in addition to a bump:
Fever
Throbbing pain
A lump that doesn't go away after a few weeks
Red or white patches inside your mouth or on your lips
A bleeding sore or lump
Foul taste in your mouth or foul-smelling breath
A sore that doesn't heal or gets worse
Don't ignore or obsess over a gum bump. Instead, examine its features and consult your dentist for proper diagnosis and treatment.
About the Practice
The Advanced Dental Treatment Center is based in Greenfield, WI. Drs. Shah and Carini's team supplies excellent dental healthcare from every possible angle. Their guiding philosophy is that regular cleaning and exams ensure lifelong oral health and well-being. They embody this idea by providing preventive, restorative, and cosmetic dentistry, TMJ therapy, and dental sedation. For more information or to book an appointment, they can be reached at their website or by phone at (414)-209-7463.