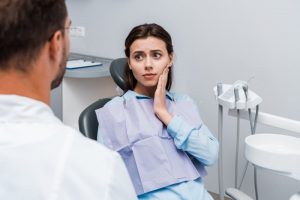 When you were a child and first discovered your tooth was loose, you were probably excited. After all, the tooth fairy was coming soon, and you were going to be rich! If you get a loose tooth nowadays, however, it seems like a worrisome situation. There are all sorts of reasons why an adult tooth could be loose, such as periodontal disease, tooth decay, or a dental injury. If you act quickly, your emergency dentist in Greenfield may still be able to save it. Continue reading to learn the steps you should take if you have a loose permanent tooth.
Contact Your Emergency Dentist
You should give your dentist a call to schedule an appointment as soon as possible. The longer you go without addressing your loose tooth, the harder it could be for your dentist to save it. You should try to receive treatment in 24 hours or less to give your dentist the best chance of restoring your smile to full health.
Do Not Wiggle the Tooth
It may be tempting, but don't wiggle your loose tooth with your tongue. If you do, it will only make the issue worse. Don't chew with it or touch it with your fingers. Even if you think your dentist will need to extract it, you shouldn't try to pull it out yourself. This can increase your risk of developing an infection.
Keep the Area Clean
You shouldn't brush your wiggly tooth because you could end up making it even looser. However, you still want to be sure the area is clean. Instead of using your toothbrush and toothpaste, rinse the area with warm water. This will help to wash away particles from the loose tooth and control bacterial accumulation.
Be Careful When Eating
If you have a loose tooth, it doesn't mean you cannot eat. Just be careful not to chew on the side of your mouth where the loose tooth is. Stick to softer foods like scrambled eggs, mashed potatoes, and apple sauce. Avoid sticky, chewy, and hard foods.
Don't Touch Your Tooth Root
If your tooth ends up falling out before you can get to your dentist's office, you should only touch it by the crown, or chewing surface. You don't want to cause any additional damage to the root. Rinse away any dirt and debris with water and place the tooth back into the socket. If you cannot keep it there, place it in your cheek or a glass of milk (not water). You need to see your dentist within an hour to increase the chances of saving your tooth.
When an adult has a loose tooth, it requires dental attention ASAP. Acting quickly to seek treatment from your emergency dentist increases your chances of saving it!
About the Author
Dr. Amer Shah earned his dental doctorate at the University of New England. Since childhood, he wanted to pursue a career where he could use his hands, interact directly with others, and make people happy by helping them. Dr. Shah is a proud member of Spear Education because the continuing education opportunities enable him to stay current in an ever-evolving dental field. If you ever find yourself facing a dental emergency due to a loose tooth or other reason, he offers sedation dentistry to help you relax and same-day emergency appointments are available. Schedule one on his website or by calling (414) 209-7463.