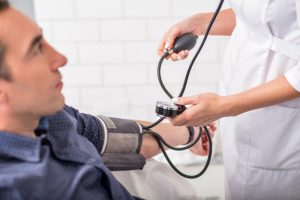 Maintaining healthy blood pressure is very important because the higher it is the greater your chances of having health issues are. All your body's important organs, such as your brain and heart, receive nutrients and oxygen through your blood flow. High blood pressure is very common with more than three million cases per year in the U.S. According to a 2021 report in the journal Hypertension, severe gum disease can make an otherwise healthy person significantly more likely to develop high blood pressure. Keep reading to learn from your dentist in Greenfield how you can protect yourself from this dangerous combination.
What Is the Link Between Gum Disease and High Blood Pressure?
Gum disease occurs when bacteria accumulate around the base of the teeth and begins to eat away at gum tissue. Research in the Hypertension report showed that people with the condition are twice as likely to have high blood pressure as those with healthy gums – possibly due to inflammation that occurs with gum disease triggering inflammation in the heart as well.
Symptoms of gum disease include:
Chronic bad breath
Gum recession
Red, swollen gums
Bleeding gums
Loose teeth (in severe cases)
What Can I Do to Avoid Gum Disease?
Since the association between gum disease and high blood pressure is so strong, a good way to protect yourself from heart problems related to blood pressure is to take steps to prevent gum disease from occurring in the first place.
Some effective tips to keep your gums healthy include:
Drinking plenty of water to keep the mouth hydrated to wash away bacteria naturally
Eating a balanced, nutritious diet
Quitting smoking and tobacco use
Brushing teeth for two minutes twice a day to clean away plaque and bacteria
Flossing between teeth daily to remove bacteria buildup between teeth
Visiting your dentist twice annually – or as often as recommended
Now that you know more about the connection between gum disease and high blood pressure, it's a great time to schedule an appointment for a checkup and cleaning. Your dentist in Greenfield will be sure to evaluate your gums and treat you for periodontal disease if needed.
About the Practice
At Advanced Dental Treatment Center, we emphasize comfort, customer service, clinical expertise, cutting-edge technology, and more. We offer many patient comforts, such as massage chairs, noise-canceling headphones, and paraffin wax hand treatments. You can always get a periodontal examination to ensure your gums are healthy. If needed, we offer scaling and root planing, as well as Arestin antibiotic therapy. One opportunity for us to check on your gums is during a dental cleaning and exam, which you can schedule on our website or by calling (414) 209-7463.