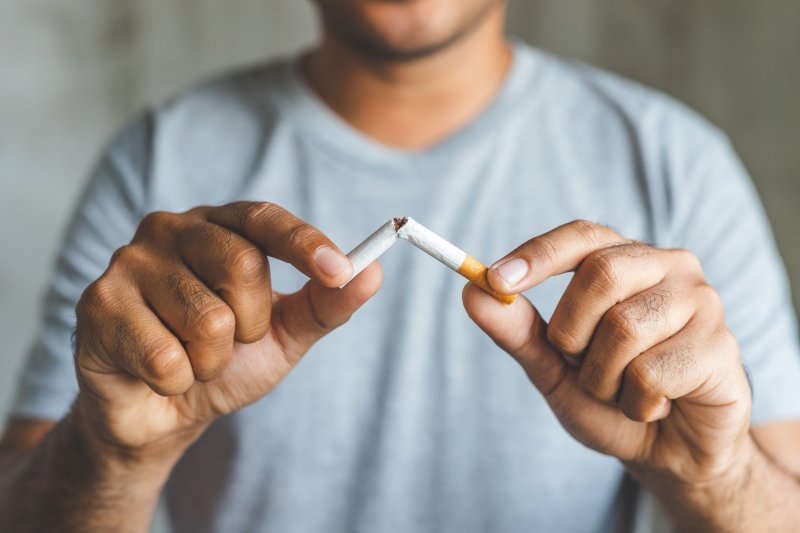 Dental implants are considered the gold standard of tooth replacement. They're the most permanent solution for missing teeth, helping patients eat, speak, and smile with complete confidence once again. Because they're so similar to natural teeth, they can also last a lifetime with proper care. Of course, their longevity depends heavily on how well you maintain them. With that in mind, a dentist in Greenfield shares a few bad habits you should break to help your implants last as long as possible.
Skipping the Floss
If you have dental implants, you probably already know that they can't develop. However, that's no reason to slack off on your oral hygiene routine. Although brushing twice a day is important, flossing daily is a step you absolutely should not skip. It helps eliminate food, plaque, and bacteria caught between your teeth and around the gumline. Since gum disease is the leading cause of dental implant failure, it's essential to protect your connective tissues from injury or infection.
Missing Dental Appointments
Aside from brushing and flossing, you must also visit your dentist regularly to maintain good oral health. Bi-annual checkups and cleanings are vitally important to ensure there are no problems with your implants. Plus, professional teeth cleanings help remove harmful substances that contribute to gum disease. So, not only will your dentist help you maintain a healthy smile, but they can identify and treat problems before they threaten your implants.
Smoking or Using Tobacco
Everyone knows that smoking and using tobacco products is bad for your teeth – but it's even worse for dental implants. These poor habits can hinder your healing process and significantly increase your risk of oral infections and oral cancer. In fact, studies show that smokers are two to three times more likely to lose their implants. If you need a reason to break the habit, now's the time.
Chewing on Non-Foods
Do you have a habit of biting your fingernails or chewing on pens? Chewing on non-food items can quickly result in damaged teeth or implants. Additionally, these poor habits introduce more bacteria to your mouth, leading to infections that can loosen your dental implant. To fight the urge, consider chewing on a stick of sugar-free gum instead. It'll keep your implants safe and freshen your breath!
Using Your Teeth as Tools
Using your teeth to open bottles, crack nuts, or tear packaging may seem like the most convenient solution if you don't have tools handy. However, unnecessary strain and pressure can take a toll on the strength of your dental implant and natural teeth. It can even damage your jawbone! To avoid putting your smile at risk, make sure you always have proper tools within reach or ask someone to help.
After getting dental implants, you'll want to protect your investment. By avoiding the bad habits outlined above, you can ensure your new smile lasts a lifetime!
About the Practice
At Advanced Dental Treatment Center, we provide exceptional dental care that's guaranteed to leave you smiling after every appointment. Our team shares the clinical expertise and passion for helping every patient achieve optimal oral health. For more ways to extend the longevity of your implants, visit our website or call (414) 209-7463.