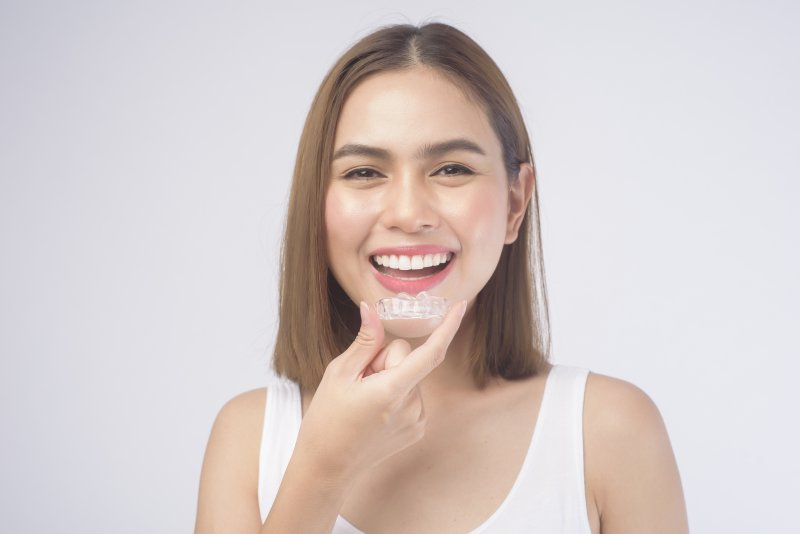 Gone are the days of metal wires and brackets being the only solution for a straighter smile! Thanks to Invisalign, you can correct misaligned teeth quickly, comfortably, and discreetly. But can it still affect your speech? It is a valid concern for most people as they worry that an impediment will be a dead giveaway of their treatment. Luckily, any alterations with the clear aligners are minimal and easily fixable! Here's what you can expect from speaking with Invisalign.
How Does Invisalign Affect Speech?
Like any other dental or orthodontic appliance, Invisalign can affect the way you speak too. Fortunately, since the clear aligners are so thin, they only have minimal impact on your speech!
During treatment, you may experience the following:
Slight Lisp
It's normal for patients to experience a slight lisp after wearing their plastic trays for the first time. Typically, it's most evident when making the "s", "sh", or "z" sounds. But the alteration is so minor that it's often only noticed by the wearer – not by anyone else!
Change in Speech Style
Talking may feel awkward during the early stages of treatment. Since you're not used to wearing clear aligners, you might initially speak more slowly or slur words. Most patients find it takes a bit more work to speak quickly and enunciate. Luckily, it gets easier with practice, and the changes go away once your mouth adjusts to the plastic trays.
Tips to Reduce a Speech Impediment
If you experience a speech impediment, your first instinct may be to speak as little as possible to hide it. However, the secret to getting rid of any alterations is practice, practice, and more practice!
Try the following tips to resolve any changes:
Constantly practice the pronunciation and enunciation of words that you're struggling with
Read books, magazines, or other reading materials aloud to yourself or others
Have more conversations with friends, family members, or other people you trust
How Long Does a Speech Impediment Last?
As mentioned earlier, frequent talking is the key to quickly reducing any speech impediments. Once your mouth adjusts to the clear aligners, any changes or lisps should dissipate. Most patients notice it takes anywhere from a few days to several weeks for alterations to fade. Generally, the more you practice speaking with Invisalign, the sooner you can expect impediments to disappear. If your speech still hasn't returned to normal after many weeks (and tons of practice), contact your dentist as it could indicate a problem with treatment.
Ultimately, the benefits of Invisalign far outweigh the minimal alterations in speech. Don't let a slight impediment get in the way of achieving a beautiful, straight smile!
About the Practice
Our goal at Advanced Dental Treatment Center is to provide top-tier oral healthcare from every possible angle, emphasizing patient comfort, customer service, and much more. We go above and beyond to ensure you can enjoy a truly happy and healthy smile. Now, we offer Invisalign to help improve your grin and quality of life. For more questions on how Invisalign will affect your speech, visit our website or call (414) 258-9630 to speak to an expert.