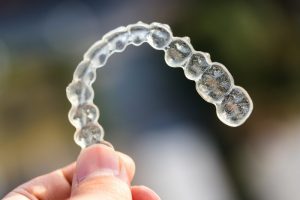 If you want straighter teeth and a healthier bite without the hassle of getting metal braces, there's no better option than Invisalign! These removable clear aligners can fix misaligned bites and crooked, gapped, and crowded teeth using a completely different method than traditional orthodontics. So how does Invisalign in Greenfield work exactly? Read on as we go over the process of getting Invisalign step-by-step, from consultation to retainer, so you'll know exactly what to expect on your journey towards a straighter smile!
Step 1: Your Initial Consultation
If you're interested in Invisalign, your first step will be to visit your cosmetic dentist for a consultation. They'll sit down and have a discussion with you about your goals for your smile. Then, they'll take a look at your teeth and jaws, capturing X-rays as necessary, to see if Invisalign is a good choice for you. Additionally, issues like tooth decay and gum disease need to be treated before moving ahead with Invisalign.
Step 2: Planning Your Invisalign Treatment
Once you've been cleared as a good candidate for Invisalign, your cosmetic dentist will create a custom treatment plan just for you. They'll take impressions of your teeth and use this information to create a series of clear aligners, with each set representing one step closer to a healthier smile. At this time, they'll also review how long and how much your treatment is likely to be.
Step 3: Getting Your Invisalign Aligners
When your aligners are ready, you'll return to your dentist's office. You'll try on the first set there so that the dentist can show you how to best handle and clean your aligners. If needed, they'll make small adjustments to your aligners to make sure they're comfortable to wear. Then, they'll answer all of your questions before sending you home to start your treatment!
Step 4: Wearing Your Invisalign Aligners
You'll need to wear your aligners for 20-22 hours every day to make sure your treatment stays on track. This should give you plenty of time to take them out for eating, drinking, brushing, flossing, playing sports, and the occasional special event. Remember, any time you're not wearing your aligners, they should be stored in their storage case!
Step 5: Periodic Checkups
Every six weeks or so, you'll return to your dentist's practice for a checkup. These quick appointments are much faster (and more comfortable) than checkups associated with traditional braces. Your dentist will only need to perform a quick examination to make sure everything is going as planned and answer any questions you may have. This is also where you'll receive your next several sets of aligners.
Step 6: Finishing Treatment & Wearing Your Retainer
After several months, you'll complete the entire series of aligners and reach your ideal smile! However, your treatment isn't quite done yet. To keep your teeth and jaws in their new positions, you'll need to wear a custom-made retainer. Your dentist will instruct you how often you'll need to wear this little appliance to keep your teeth from shifting back out of place. As long as you wear your retainer regularly, you can easily expect to enjoy the results of your Invisalign treatment for life!
About the Practice
The talented team of Advanced Dental Treatment Center is proud to serve Greenfield and the surrounding communities with high quality, compassionate dental care. They focus on patient comfort, customer service, clinical expertise, and the latest dental technology to help smiles of all ages look and feel their best. Whether you're coming in for a dental cleaning, Invisalign checkup, or more extensive treatment, they go above and beyond to make the experience as pleasant as possible. To learn more about Invisalign, they can be contacted via their website or at (414) 258-9630.