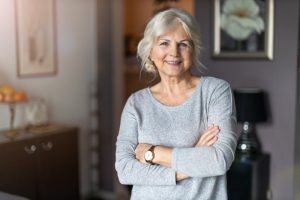 If you're missing teeth, you've probably been considering dental implants. This option comes with many benefits, and it has a success rate of over 95%. However, there is a common problem that can contribute to implant failure: teeth grinding (also known as bruxism). Usually, this issue occurs at night when you don't even know it, but this unnecessary pressure can compromise your implants. Read on to learn more about how bruxism can affect dental implants and what you can do to protect your smile.
How Does Bruxism Impact the Success of Dental Implants?
One of the reasons why dental implants are so successful is that they integrate into the jawbone to become a sturdy, permanent part of your body. This process is called osseointegration, which can often take 3 to 6 months. During this healing period, it's vital that your implants aren't moved, and there is no unnecessary pressure put on them – that's where bruxism becomes a problem.
Bruxism involves the repeated clenching and grinding of the teeth, typically during the night while asleep. This consistent pressure on the implants can eventually destroy them and cause them to fail. For this reason, your dentist will always check for signs of bruxism and ask you about your sleeping habits to better understand your health.
Effective Treatment for Bruxism
If you have bruxism, you may still be able to get dental implants as long as you get necessary treatment. The most common solution for bruxism is a nightguard. This is a custom-made oral appliance that your dentist creates, which is designed to protect your teeth and minimize pressure from clenching. The nightguard is made out of acrylic, and because it's personalized to your exact specifications, it's completely comfortable to wear and sleep with.
Are Dental Implants Right for You?
There is no need to worry if you grind your teeth – your dentist may still be able to provide you with dental implants. That's why your initial consultation is so important. After your dentist examines your smile, and the overall condition of your oral health, they will be able to make a confident recommendation for dental implants. In some cases, patients are given a nightguard as soon as they get dental implants to ensure that their replacements are protected from clenching and grinding. The only way to know with certainty whether or not dental implants are right for you is to contact your dentist!
Don't let bruxism hold you back from getting the full, strong, and beautiful smile of your dreams! Your dentist will ensure that your smile is protected so you can start enjoying life with dental implants.
Meet the Dentist
Dr. Dr. William Carini is a highly trained dentist who has taken countless hours of continuing education to ensure his patients have access to state-f-the-art treatment options like dental implants. With many implant courses under his belt, he loves helping his Greenfield patients smile with this wonderful solution. To schedule an appointment, he can be reached through his website or by phone at (414) 258-9630.