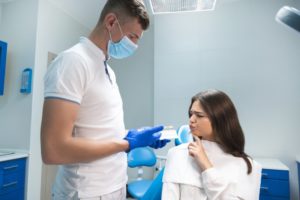 Did you know that the enamel on your teeth is actually the strongest substance in your entire body? While this is the case, it does not mean it is invincible. Tooth decay is not something that happens suddenly, but instead it can often take years to begin to cause discomfort or other serious issues. This is why seeing your dentist regularly to check for tooth enamel wear in Greenfield is so important. Keep reading to learn more about how to know if it's happening to your teeth, what the long-term effects could be, and what you can do to prevent it.
Everything You Need to Know About Tooth Enamel Wear
Before learning how to prevent tooth enamel wear, it's important to know what causes it and how to know if you're at risk. Here are a few simple facts that can help you identify whether or not you need to start fighting back against decay:
Enamel Loss Can Happen to Anyone
Loss of enamel on the teeth is no respecter of age. Anyone who has a mouth with teeth is at risk. It is caused by the starches, sugars, and acids in the foods and beverages you consume. Whether added or naturally occurring, these substances are responsible for the breakdown tooth enamel. Realistically, it's just not possible to avoid them altogether. This good news, regular brushing and flossing every day can help prevent the build-up of plaque from starches and the spread of bacteria from sugar. It can also help to keep the acidity of fruits or drinks high in Vitamin C from breaking down your enamel.
There Are Multiple Different Signs That Come with Enamel Loss
Unfortunately, enamel loss is not necessarily identified by one characteristic, but fear not. Your dentist can tell you the different signs to look for:
Discoloration: Yellowing or staining of your natural teeth.
Frequent and Extreme Sensitivity to Hot or Cold Temperatures: Thin enamel causing the nerves in the tooth to be exposed.
Teeth That Crack or Chip Too Easily: Chipping or cracking of the teeth when biting down on a hard substance.
These are all tell-tale signs that you may be experiencing tooth enamel loss, and if left untreated, it can lead to serious decay, the need for a root canal, or even tooth loss. It's important to seek out dental care as soon as possible if you find yourself dealing with any of these situations.
How to Prevent Enamel Loss
Although there is a part inside of each of your teeth called dentin that will continue to grow and regenerate for the remainder of your life, your tooth enamel cannot regrow itself. The good news is, there are plenty of ways to prevent tooth enamel from decaying:
Floss and Brush Twice Per Day. This one might seem like a "no-brainer," but according to studies, 28% of people either only floss when they feel the need to, or just not at all. Doing these simple things for your teeth can keep plaque off and protect your mouth and gums from harmful bacteria that can cause decay.
Use a Mouth Wash That Combats Enamel Decay. There are plenty of brands out there to choose from, but your dentist can help you identify what the best option is for you.
Be Mindful of Your Diet. As previously mentioned, if you have a diet that is high in fruits or starches, it's important to be extra careful of how you're following up with dental care in order to protect your teeth from acid and tartar build-up that can cause enamel decay.
Even if you have already experienced significant enamel decay, there are other treatments your dentist can recommend. However, it's never too late to start caring for your teeth, and you can begin making changes for the better today!
About the Author
Dr. Carini and Dr. Blanchard lead the team of dental experts at Advanced Dental Treatment Center. They know how important it is for their patients to maintain good oral health from the start so that they can continue to have healthy teeth later in life. They make it a priority to educate everyone they care for on the best ways to protect the enamel on their teeth. Their combined years of training and expertise make them the best choice for your next dental checkup in Greenfield. Are your teeth in tip-top shape? Request an appointment online, or call us at (414) 258-9630.