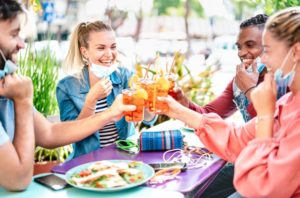 Countless people seek treatment from their cosmetic dentist due to a variety of imperfections that litter their grin, like dental discoloration, damaged teeth, and even orthodontic problems. Chances are, if your smile doesn't make you feel attractive, you'll likely hide it instead of letting it show, ultimately making you miss out on these four amazing benefits of smiling in Greenfield.
Project Confidence & Increase Success
Believe it or not, a beautiful smile can help you be more successful in life! People are naturally drawn to those who look friendly, approachable, and happy, and when you don't let your smile show, those traits may not come across. In fact, being straight-faced and hiding your smile can instead make you appear withdrawn or distant. By smiling more, you'll seem more confident, personable, and have a much higher chance at making a great first impression during job interviews, first dates, and other important moments!
Boost Your Happiness
Smiling is a natural reaction that many people have when they express happiness or something that's pleasant or funny. When you grin, the same muscles in your face that create your smile are actually able to stimulate different parts of your brain. A study published in the 90s in Directions of Psychiatry and later research shows that the facial expressions you make do have a small effect on how you actually feel. That means that smiling more often can help make you feel happier.
Recover Faster from Stressful Situations
A study published in Psychological Science took the old phrase "grin and bear it" to a scientific, new level by looking at how people can help reduce their stress in certain situations by simply holding a smile on their face. Turns out, this adage had scientific merit after all, because participants who held a "genuine" Duchenne Smile had higher recovery heartrates compared to the ones who held neutral facial expressions or held chopsticks in their mouth to force their muscles to express a grin. So, next time you find yourself typing out a stressful email to a coworker or have a life-changing job interview that has you feeling anxious, smile through it!
Reduce Signs of Aging
It's no surprise that as you age, your teeth become more worn-down or discolored due to the extra years of use. That's why having a smile that's bright, refreshed, and looks healthy can help you wind back years of aging. In a study from Berlin's Max Planck Institute, participants were shown pictures of people smiling and pictures of people with neutral expressions, and it turns out, many of the participants voted that the pictures of smiling people looked the youngest.
For people who have cosmetic imperfections, smiling may reduce your confidence instead of boosting it, especially if you feel embarrassed by dental discoloration and damage. By visiting a cosmetic dentist in Greenfield for treatment, you can transform your grin into one that you feel comfortable showing, allowing you to enjoy all of these benefits of smiling more often!
About the Author
Dr. Bill Carini is an experienced cosmetic dentist who enjoys being able to boost his patients' confidence by restoring dental damage and other flaws that make them feel insecure about their smiles. He regularly takes continuing education courses to stay up-to-date with the latest advancements in his field and has recently completed training to administer BOTOX and dermal filler injections. To learn what cosmetic treatments would best fit your needs, visit Advanced Dental Treatment Center's website or call 414-258-9630.