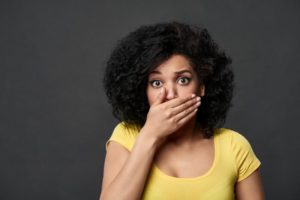 Do you hide your smile in photographs because you have a chipped tooth? Do you laugh behind your hands to hide your discolored teeth? There are numerous dental flaws in Greenfield that can keep you from feeling confident in your everyday life. Thankfully, you don't have to live with imperfect teeth if you don't want to! Modern cosmetic dentistry makes it easier than ever to erase cosmetic flaws and achieve a beautiful smile you'll be excited to show off. Here are four of the most common dental imperfections and how your Greenfield cosmetic dentist can treat them.
1.) Discolored or Stained Teeth
Some surveys indicate that 80% of Americans between the ages of 18 and 49 wish they had whiter teeth, and it's no secret why. There are a variety of everyday factors that can stain or discolor enamel, like poor oral hygiene, over-indulging in staining foods or drinks, smoking, and even certain health conditions.
In most cases, you can get a sparkling smile with a quick and easy teeth whitening treatment from your dentist. However, stains that are particularly stubborn or severe may be better addressed with cosmetic bonding or porcelain veneers.
2.) Chipped Teeth
Did you know that your enamel is the hardest material in your body? Unfortunately, that doesn't mean it's indestructible. A chipped tooth can be the result of biting down on a hard food (like a popcorn kernel), opening packages or bottles with your teeth, or taking a blow to the face.
Leaving chipped teeth untreated can lead to further damage and dental infections. Depending on the extent of the chip, your dentist can use cosmetic bonding, a porcelain veneer, or a dental crown to restore your tooth's appearance and function.
3.) Irregularly Shaped Teeth
Most of us aren't born with a picture-perfect set of uniform pearly whites. Whether it's from genetics, an injury, or teeth grinding (bruxism), many people find themselves with irregularly shaped teeth. Not only are misshapen teeth unsightly, but they're at a higher risk of damage and decay.
In some cases, these teeth can be reshaped with cosmetic bonding. However, in more severe cases, your dentist may recommend porcelain veneers or a dental crown for more dramatic changes.
4.) Spaces or Gaps Between Teeth
Many adults avoid getting the orthodontic treatment they need because they hate the idea of having a mouth full of metal wires and brackets. Thankfully, traditional braces aren't the only option for correcting crooked teeth! Small spaces or gaps between teeth can be filled in with cosmetic bonding, while slightly more misaligned teeth can be redesigned with porcelain veneers. For cases that require orthodontic treatment, Invisalign clear aligners can help you correct your crooked teeth and bite issues without a mouthful of metal.
If your imperfect teeth are keeping you from smiling confidently, it's time to see your dentist. There are plenty of ways they can help you transform your dental flaws into the beautiful smile you've always wanted.
About the Author
Dr. David Blanchard of Advanced Dental Treatment Center is passionate about providing high quality dentistry in a pleasant environment for the smiles of Greenfield. He has completed more than 150 hours of continuing education through the prestigious Spear Academy in cosmetic dentistry and other advanced topics. With the latest cosmetic treatments, state-of-the-art technology, and comfortable patient amenities, he and the rest of his team will go above and beyond to help you get the smile of your dreams! To learn more, he can be contacted via his website or at (414) 258-9630.