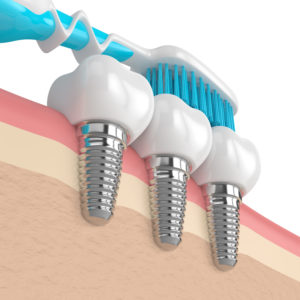 Have you just filled the gap in your smile with a dental implant in Greenfield? Congratulations! You can look forward to confidently eating, speaking and laughing around friends, family and coworkers for many years to come with your new, complete smile. And while dental implants are designed to last for decades, it is still very important that you take proper care of the newest piece of your smile. Not sure how? Relax, the secrets are revealed below.
What to Do 48 Hours After Implant Placement
The 48-hour window after dental implant surgery is a very important period. During this time, you may experience oozing, swelling, some pain and persistent bleeding. Just remember, these are all signs that the body is already beginning to heal!
To help the healing process along, use your teeth to apply firm but gentle pressure on the gauze packs in your mouth to keep them in place for the first hour after surgery. After that, you should change the gauze every 30 to 45 minutes or as directed by your dentist.
The night of the surgery, brush your teeth very gently so as to not disturb the surgical area. After the first 24 hours, lightly rinse with salt water 2 to 3 times a day and apply an ice-pack if need.
Aftercare Instructions for the First Weeks After Implant Placement
During the first few weeks after getting a dental implant placed, you should regularly brush and floss your teeth and dental implant and rinse your mouth with saltwater.
You may also want to consider eating softer and less acidic foods in the early stages of the healing process.
In addition, you should schedule post-operative appointments with your dentist in Greenfield. These early follow-up trips are essential, as they give your dentist an opportunity to clean and inspect your new implant and identify any early signs of trouble.
How to Clean Dental Implants at Home
In the long-term, cleaning a dental implant is actually very similar to caring for natural teeth. This sounds simple, but – there's always a "but" – you may be surprised to learn that many adults do not actually brush properly.
To keep your natural teeth and your dental implant clean, be sure to:
Opt for a soft-bristled toothbrush and hold it at a 45-degree angle when brushing.
Brush twice a day for two full minutes each time. Set an alarm on your phone if you have trouble keeping track of the seconds.
Use short, circular strokes with brushing.
Be sure to thoroughly brush each side of your dental implant – the outer, inner and chewing surfaces.
Floss at least once a day.
Dental implants are an investment in your smile and future quality of life – so treat them like one! Follow the aftercare instructions above and visit a dentist in Greenfield twice a year for routine checkups to maintain your full smile for decades to come.
About the Author
Dr. William Carini has over 20 years of experience helping Greenfield residents achieve and maintain healthy smiles. The proud Marquette University School of Dentistry graduate has taken numerous continuing education courses on dental implants. For more dental implant care tips, visit the Advanced Dental Treatment Center website or call Dr. Carini at 414-209-7463.