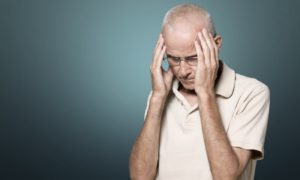 Although they're spatially near each other, you wouldn't think your gums could affect your brain. After all, they're not even part of the same body system. However, as it turns out, they are related. By not having healthy gums, you could be jeopardizing the health of your brain and increasing your risk of developing problems like dementia. A family dentist in Greenfield is here to elaborate on the connection.
What Is Gum Disease?
Since your mouth is a warm, moist environment, it is home to lots of bacteria, most of which are harmless and even beneficial. Gum disease occurs when the bad bacteria in your mouth get out of control, usually because of poor oral hygiene. When you neglect to brush and floss as often as you should, plaque builds up on your gums. The bacteria in plaque then attack the structures supporting your teeth, leading to tooth loss and a whole host of other health problems.
How Is Gum Disease Linked to Alzheimer's?
The bacteria associated with gum disease can create pockets in between your gums and teeth. Bacteria can then enter those pockets, reach your bloodstream, and travel to other parts of your body, such as your brain. This theory has been all but confirmed by studies that have shown the same strands of bacteria in gum disease patients and in the brain tissue of Alzheimer's patients. Inflammation from the mouth spreads into the brain, causing impaired function that may lead to dementia.
How Can You Keep Your Gums Healthy?
There are multiple methods of keeping gum disease at bay, such as:
Visiting your dentist in Greenfield twice a year for a checkup and cleaning
Brushing your teeth twice a day with fluoride toothpaste
Flossing at least once a day, preferably in the evening
Quitting smoking or chewing tobacco
Limiting alcohol consumption
Staying hydrated by drinking plenty of water
Chewing sugar-free gum after meals if you can't brush
Your oral health and cognitive health are more intertwined that you would believe at first. By keeping your gums in good condition, you can keep your brain healthy and functional for a long time.
About the Author
Dr. David Blanchard graduated with honors in 2014 from the University of Michigan School of Dentistry. These days, he practices at Advanced Dental Treatment Center in Greenfield, WI. His professional affiliations include the American Dental Association, the Wisconsin Dental Association, and the Academy of General Dentistry. To learn more about how to maintain excellent gum health, contact Dr. Blanchard by clicking here or calling (414) 209-7463.