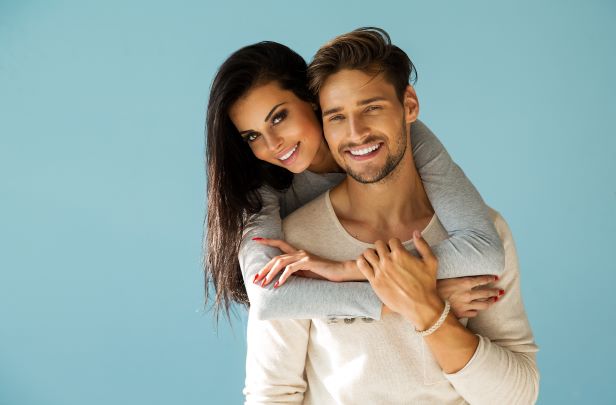 Teeth whitening in Greenfield can make your smile noticeably brighter in as little as 30 minutes. You can choose from in-office or at-home treatments. Whichever option you select, you'll enjoy visible results in a minimum amount of time. There's no better way to make a great impression in personal, professional, or social surroundings.
Why Teeth Whitening is a Job Best Left to the Pros
Teeth whitening is a popular topic these days. Everywhere you look you can see toothpastes, strips, and other non-prescription products that promise great results. But in reality the results from these methods rarely live up to the hype. Here's why:
Many over-the-counter teeth whiteners rely on abrasive force for their results, similar to how sandpaper works. Not only are the results questionable, many people with sensitive teeth find the treatment experience distinctly uncomfortable.
Other whitening products use peroxide as their active ingredient. Unfortunately, the type of peroxide used in non-prescription formulas is too weak to achieve anything more than a modest whitening effect.
The benefits of teeth whitening depend as much on the person overseeing the treatment as the product itself. Dentist-supervised efforts draw from expert knowledge and supervision, something which no non-prescription process can say.
Now that we've looked at the advantages of prescription teeth whitening, let's consider the types of in-office treatment available. We'll focus on the Zoom! method that's preferred by dentists nationwide for its safety and effectiveness.
30 or 45 Minutes: The Choice is Yours
The Zoom! method offers two in-office treatment options. These are:
QuickPro. A dental professional applies a thin layer of whitening formula to each tooth, followed by a sealant that protects your teeth from irritation. After 30 minutes you simply brush and go about your business. You'll enjoy a smile that's up to four shades whiter with minimal time commitment on your part.
WhiteSpeed. A layer of concentrated whitening gel is applied while you sit back and relax. This is accompanied by an LED lamp that shines cool blue light on your teeth to maximize the results. These steps are repeated three times over 45 minutes for a smile that's up to eight shades whiter.
Some patients prefer to take care of their whitening needs away from the dental office. If that's true in your case, then ask your cosmetic dentist in Greenfield about convenient take-home kits. They offer prescription-grade benefits at a time and place that works for you.
Keeping Your Smile Looking its Best
Enjoying lasting benefits from teeth whitening takes reasonable self-care on your part. Here are some steps for keeping the shine in your smile between treatments:
Floss before brushing. This will remove plaque and food particles that brushing alone can miss.
Watch what you drink. Strongly colored beverages such as coffee, tea, and red wine can stain your teeth when consumed in excess.
Steer clear of tobacco. Cigarettes, cigars, chewing tobacco, etc. can have devastating effects on your dental health.
Your smile is one of your most precious possessions. Give it the care it deserves and you'll enjoy a world of benefits in return. That will help to lay the foundation for a lifetime of health and happiness.
About the Author
Dr. William Carini is a skilled general and cosmetic dentist who earned his DDS degree from the Marquette University School of Dentistry. Since then, he has kept his skills current by investing countless hours in ongoing training. You can reach his office online or by calling (414) 209-7463.