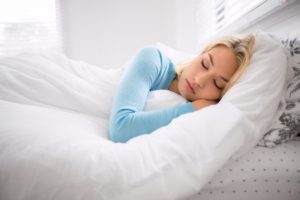 You're not a morning person. When you wake up in the morning, your frequent headaches are painful. Maybe you also have jaw soreness or tooth pain, and your teeth seem more prone to tooth decay than they should be. It's possible that you clench or grind your teeth while you sleep. You can't control what you do while in dreamland, so what can you do about it? You can talk to your family dentist in Greenfield about getting a night guard. It may be just the solution that will turn you into a morning person after all!
What is a night guard?
A night guard is a thin, transparent appliance that you wear at night to keep your teeth from touching. Typically worn on the top teeth, it prevents them from grinding with the bottom, a condition that is also called bruxism. If left untreated, bruxism can cause damage to your teeth and jaw.
Please note that a night guard is different from a sports mouth guard. Don't try to use a mouth guard as a night guard. They serve two different purposes and should be used properly.
What symptoms or problems does wearing a night guard address?
If you have any of the following symptoms, you may need to wear a night guard:
Chronic or tension headaches, particularly in the morning, from clenching the jaw muscles during sleep.
Pain in the temperomandibular joint (TMJ), which is located on the front side of your ears.
Worn down enamel, which can lead to discoloration, tooth decay, fracturing, and other problems.
Tooth pain that isn't caused by tooth decay.
Increased tooth sensitivity.
Cracking in a tooth or crown from the sustained pressure of grinding or clenching.
Your family dentist in Greenfield will also be able to help you recognize these symptoms, as some of them are difficult to spot for the untrained eye.
What are the benefits of wearing a night guard?
With a properly fitting night guard, you could enjoy the following benefits:
Get better sleep at night.
Protection against damage to your teeth, restorations, and jaw.
Alleviate jaw pain or morning headaches.
Why should I get a night guard through my dentist?
Although you can purchase a night guard over-the-counter for cheaper, a custom-made night guard from your dentist is molded specifically to fit your teeth, making it more comfortable and less bulky. In addition, the night guards obtained through the dentist will ensure that your jaws align properly, preventing further damage to your TMJ and relieving potential TMJ pain. Custom-made night guards are also often more durable than their commercial counterparts and can last for up to 10 years.
You don't have to suffer with the symptoms of bruxism or clenching. Although you can't control what you do while you sleep, you can promote your oral health and prevent serious problems by using a night guard. Schedule an appointment with your family dentist in Greenfield to discuss your symptoms and treatment solutions.
About the Practice
At Advanced Dental Treatment Center, Dr. Carini, Dr. Blanchard, and the staff focus on patients' comfort by providing relaxing amenities such as massage chairs, neck pillows, warm blankets, noise-canceling headphones, and individual TVs. They also offer treatment for conditions like sleep apnea and TMJ disorder. You can contact them by calling (414) 209-7463 or clicking here.