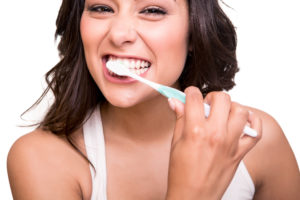 Teeth whitening in Greenfield can improve or even erase stains and discolorations caused by problems like food and drink, tobacco use, disease, and poor dental hygiene. Dentists use prescription whiteners that are far more effective than over-the-counter products. Getting the most benefit from these treatments starts with knowing a little bit about what causes tooth staining in the first place.
The Eight Primary Causes of Tooth Staining and Discoloration
Most tooth stains and discolorations can be traced back to one or more of the eight following causes:
Strongly colored foods and drinks. These can include cherries, blueberries or blackberries, sodas, coffee, tea, or wine.
Poor or infrequent dental hygiene. All of us get busy from time to time. But forgetting to brush and floss can have serious consequences for oral health.
Tobacco use. Cigarettes, cigars, pipes, chewing tobacco, etc., can cause severe tooth staining or discoloration. These products can also wreak havoc with your overall health.
For example, infections in an expecting mother can interfere with the development of the baby's teeth, leading to staining and discoloration as the infant matures.
Certain medications. Two examples are antibiotics and medications used to treat mental conditions, both of which can cause tooth staining as well as other side effects.
Genetic factors. Some people are at special risk of tooth staining due to factors they inherited from their parents.
Some tooth discoloration is to be expected as we age. This is usually caused by thinning enamel.
Mouth trauma. Blunt force impact to your teeth can lead to brown or gray stains on your teeth.
The good news is that prescription teeth whitening can reverse or even erase the effects of most stains and discolorations, restoring your smile to its former glory.
How Prescription Teeth Whitening Works
Dentist-approved whitening kits use a concentrated form of hydrogen peroxide or similar formula, usually in gel form. The big advantage of these products is that you can use them at home and at your convenience. While they're effective, they're not quite as strong as the in-office version. Your cosmetic dentist in Greenfield can give you more information during your appointment.
Practicing sound oral health habits is crucial for maintaining the benefits gained from whitening treatments. At the very least, you should make the following practices a regular part of your life going forward:
Twice-daily brushing using an ADA-approved toothpaste and a soft-bristled toothbrush.
Once daily flossing. Floss strings are available in a variety of widths to accommodate most oral profiles. To get the most benefit from flossing, you should move the string in an up-and-down motion rather than back-and-forth.
Eating a healthy diet. This includes limiting consumption of sugary and starchy food. It also means eating a wide variety of nutritious foods, like lean protein sources, reduced-fat milk, cheese or yogurt. raw green veggies, fresh fruits, and whole grains.
Avoiding all tobacco products. Ask your dentist or regular physician for advice on kicking the habit. New medications and treatment strategies can help.
Watching what you drink. Beverages like coffee, tea, and red wine can undo the benefits of teeth whitening treatments if consumed in excess. Alcohol in general can have serious oral health consequences if abused. The same is true for illicit drugs.
Tooth staining and discoloration are part of life. But following a few basic care tips along with professional teeth whitening can help to turn back the clock, enabling you to enjoy a better, brighter new year. All the best to you and yours, both now and throughout 2019.
About the Author
Dr. William J. Carini has been practicing dentistry for over 25 years. He earned his DDS degree from Marquette University School of Dentistry. You can reach his office online or by calling (414) 209-7463.