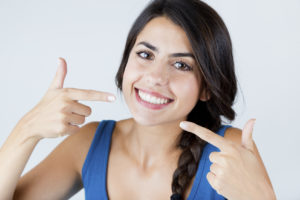 When you look at your teeth in the mirror, what do you see? Do you focus on discoloration, gaps, or chips? If so, you probably feel insecure about your appearance. You have probably considered visiting your cosmetic dentist in Greenfield in the past, but you really do not want to undergo several procedures or a lengthy treatment. What if you could get the results you want without an invasive process? With porcelain veneers, you can drastically change how your teeth look using a minimally invasive procure. In just two weeks, you can look in the mirror and love what you see.

Cover Your Cosmetic Flaws
Porcelain veneers are thin shells that are bonded to the front side of the teeth, allowing them to cover several cosmetic imperfections. Overall, they improve their size, shape, and proportion, which is perfect if you suffer from chips, cracks, or abnormally shaped teeth.
In addition, they can also give you a bright smile by hiding dark discoloration that does not respond to traditional whitening treatments, like stains caused by mediations. In some cases, they can even be used as an alternative to traditional orthodontics because they can cover minor gaps and overcrowding.
Get a Natural Appearance
When compared to veneers of the past, those made of porcelain look natural. Porcelain closely mimics the appearance of enamel so when light reflects off their surface, they will look like your real teeth. Not to mention, porcelain is stain resistant with the right care, such as using nonabrasive dental products, so your new smile will stay bright.
Choose a Minimally Invasive Solution
In just two appointments, you can transform the appearance of your teeth with porcelain veneers in Greenfield. After an initial consultation, you will have your first visit to clean your teeth and prepare them for bonding. This involves lighting etching their surface to remove a small amount of enamel. When compared to veneers of the past, less enamel is removed so more of their structure remains intact.
Then, impressions are taken to create your new smile. While you wait for them to be ready, you will need temporary ones. In about two weeks, you will have a second appointment to have your custom-made veneers bonded in place.
Enjoy a Long-Term Option
With the right care, porcelain veneers will last for an average of 10 years before needing to be replaced. It is best to use nonabrasive products and avoid any habits that can cause them to break, like using your teeth as tools.
Get a New Smile Today
If you are ready to love the smile that you see in the mirror, it is time to see if porcelain veneers are right for you.
About Dr. William J. Carini
Dr. William J. Carini has been creating healthy, beautiful smiles for 26 years. In addition to general dentistry, he also specializes in cosmetic procedures, like porcelain veneers. If you have any questions about the procedure or how they can help you, contact Advanced Dental Treatment Center today to schedule a consultation.