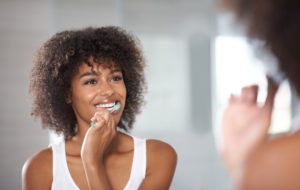 You've noticed that your gums are bleeding again when you brush your teeth. This has been happening lately, and you're wondering if you should see your family dentist in Greenfield? The answer is yes! What you're experiencing is actually the first stages of periodontal (gum) disease. If you're proactive about seeking treatment now, you may be able to control gum disease with less invasive procedures. Here's more information about gum disease and how we treat it.
Periodontal Disease 101
Gum disease essentially occurs when excessive plaque builds up around and under your gum tissue, allowing harmful bacteria below the gum line. This bacteria causes an infection of your soft tissue and bone, which are the support system for your teeth. If this infection is left untreated, it will eventually destroy your support system and lead to tooth loss. Periodontal disease is actually the leading cause of tooth loss in American adults.
How is Periodontal Disease Treated?
Gingivitis is the first stage of gum disease, and this is when you may notice that your gums bleed when brushing, or appear red and irritated. You may also have chronic bad breath that doesn't go away. This is the time to contact your dentist because gingivitis can often be treated with a thorough cleaning and improved home care. For some patients, this reverses their condition.
Periodontitis is the advanced stage of gum disease where you may notice that your gums are receding and your teeth begin to feel mobile. In this stage, treatment starts with a deeper cleaning known as scaling and root planing.
A Deeper Cleaning
Scaling and root planing is a deeper cleaning that reaches below the gum line, so we use anesthetic to ensure that you're comfortable throughout the process. Scaling removes the excessive plaque and tartar buildup, while root planing smoothes the surfaces of your roots to keep bacteria out and allow your gum tissue to heal and reattach itself.
This type of cleaning may require more than one appointment, and Dr. Carini will likely recommend that you have additional cleanings throughout the year to keep your condition under control. Since there's no cure for gum disease, regular dental checkups and an improved home care routine are your best line of defense in keeping your condition at bay.
Contact Our Office
If it's time for your routine cleaning and checkup, or if you feel you may be noticing signs of gum disease, we encourage you to call today and schedule your next appointment with us.